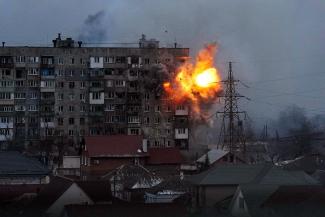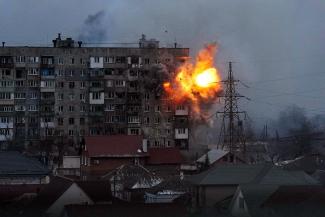 Book Tickets
Ukrainian filmmaker and journalist Mstyslav Chernov presents an unsparing portrait of Mariupol under siege and the bravery of those struggling to survive in it.
On the eve of Russia's invasion of Ukraine, a team of Ukrainian journalists enter the strategic eastern port city of Mariupol. During the subsequent siege and assault, as bombs fall, inhabitants flee, and access to electricity, food, water and medicine is cut off, the team – the only journalists left in the city – struggles to cover the atrocities and send their footage out to the world. Eventually surrounded by Russian soldiers, they shelter in a hospital, unsure of how they'll escape. Seeing so much death, Chernov and his colleagues wonder whether the reporting will make a difference. But the city's surviving residents implore them to ensure the world bears witness to what is happening.
Content Guidance: This film contains war scenes.
Awards

Strands

Topics

Premiere status

UK premiere
Film details
Director(s)

Mstyslav Chernov

Country(s)

Year

2023

Duration

94 mins

Producer(s)

Michelle Mizner, Mstyslav Chernov, Raney Aronson-Rath, Derl McCrudden

Cinematography

Mstyslav Chernov, Evgeniy Maloletka

Editing

Michelle Mizner

Sound

Jim Sullivan

Language(s)

Ukrainian, English, Russian

Subtitles

Partial English Subtitles

Certification