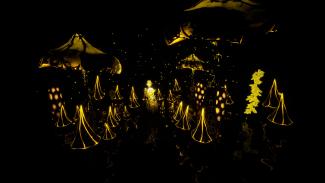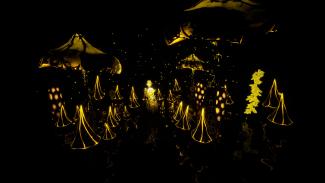 Show Information
This non-linear, interactive docu-music album aims to help destigmatize mental illness by allowing the user to journey through the mind of an individual with bipolar disorder.

Award-winning sound designer Matt McCorkle has created an auditory and visual journey through five distinct musical worlds, which are explored using a joystick. Each world is filled with peculiar speakers that play short poems and stories about mental illness. Navigating these worlds, users are introduced to music-reactive visuals, photorealistic foliage, nature sounds and ASMR elements that encompass a world designed to raise awareness about mental illness in an innovative and immersive way.
Content Guidance: contains discussions around mental health issues.
Topics

Premiere status

World premiere
Film details
Country(s)

Year

2023

Duration

12 mins

Producer(s)

Jazia Hammoudi, Jessica Kidd

Creator/Artist

Matt McCorkle

Guitarist

Mark Sidney Johnson

Developer(s)

ONX Studio, NYC

Language(s)

English

Special Thanks

Pamela McCorkle, Brie Noel, Amelia Pisapia, Matthew Niederhauser, John Fitzgerald, Vallejo Ganter