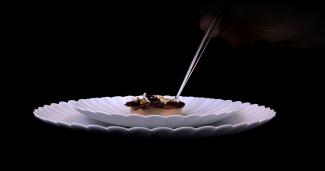 Show Information
A 3-part VR documentary series following three of the world's top chefs and their journeys to excellence.

Each episode introduces us to a chef at the top of her game, allowing us to get up close and personal with their stories, cuisine and food cultures. Shot with a mix of 360 and 8K 3D 360 macro technology,
Behind the Dish
brings food and ingredients to virtual life in a truly pioneering way. In episode one (
A Twisted Soul
), we follow Deborah VanTrece, who went from being a flight attendant to become a Soul Food maestro. Episode two (
The Starred Chef
) finds top French chef Hélène Darroze tell of her decision to leave her father's restaurant to start out on her own. And in episode three, (
Sushi Master
) Yumi Chiba talks about her upbringing, early lack of faith in her skills and how a breast cancer diagnosis became her catalyst to success. 
Film details
Artist(s)

Chloé Rochereuil / TARGO

Country(s)

Year

2022

Duration

36 mins

Producer(s)

Victor AGULHON / TARGO

Distributor

TARGO

Language(s)

English