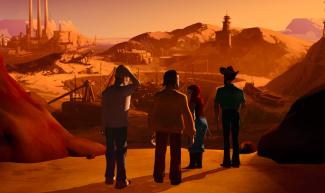 Show Information
Missing Pictures is a five-part VR series where acclaimed filmmakers Abel Ferrara, Tsai Ming-liang, Catherine Hardwicke, Lee Myung-se and Naomi Kawase tell us about the film they didn't get to make.

Made with volumetric capture, each episode immerses us into the world that the filmmaker imagined for their missing picture and why it didn't come to pass. Abel Ferrara takes us to a gritty 1980s New York for Birds of Prey, the political thriller of his dreams. Tsai Ming-liang considers a touching tribute to his grandparents and their nightly movie watching. Catherine Hardwicke imagines her version of the 1975 environmentalist novel The Monkey Wrench Gang. Lee Myung-se seeks to explore the place of the father in traditional Korean culture. And Naomi Kawase recounts a love story centred around a bicycle road trip.
Content Guidance: contains scenes with flashing images.
Film details
Director(s)

Clément Deneux

Country(s)

France

,

United Kingdom

,

Taiwan

,

Luxembourg

,

South Korea

Year

2022

Duration

50 mins

Producer(s)

Oriane Hurard

Co-Director(s)

Kuan-Yuan Lai, Myung-Se Lee

Featuring

Abel Ferrara, Tsai Ming-Liang, Catherine Hardwicke, Myung-Se Lee, Naomi Kawase

Language(s)

English, French, German, Mandarin, Korean

Subtitles

English