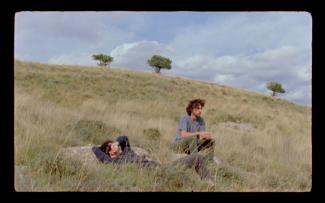 Book Tickets
Inspired by frescoes in a simple 10th-century Spanish dwelling, this film weaves thoughtful and unexpected threads between a hermitage, a museum and a spa.

In the province of Soria – an oasis in the middle of a desert – stands the Mozarabic dwelling of San Baudelio. Built in the 10th century and once the home of a hermit, it has been built with a central pillar that spreads its arms like a palm tree. In Madrid's Prado Museum, an exhibition room houses paintings that were torn from San Baudelio. Built at the end of the 20th century, the museum has a square floor plan with a central pillar and expanding fronds. In Burgo de Osma, there is a spa with similar paintings to those of San Baudelio. Built recently, it features a similar architectural design. Could a simple home, a museum and a spa share a commonality across time and cultures?
This film will screen as part of the programme Shorts: Other Islands.

Competitions

Topics

Premiere status

International premiere
Film details
Director(s)

Patxi Burillo Nuin

Country(s)

Year

2023

Duration

14 mins

Executive producer(s)

Sara Hernández, Elías Querejeta Zine Eskola

Producer(s)

Sara Hernández

Cinematography

Pablo Paloma

Editing

Jaume Claret Muxart

Sound

Óscar Vincentelli

Language(s)

Spanish

Subtitles

English Subtitles Throughout

Certification