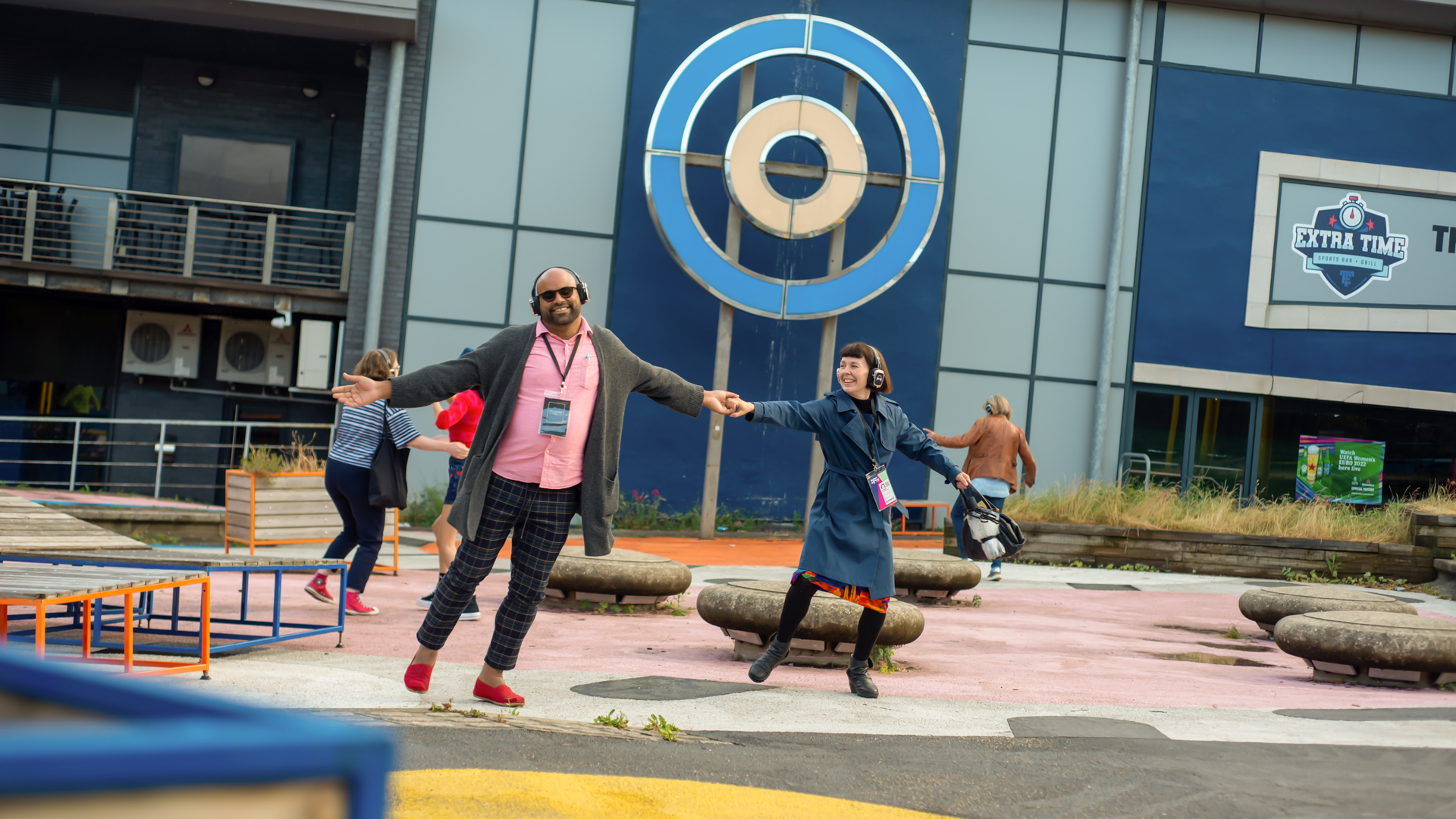 Image credit: From Sheffield DocFest 2022 (Photo by Nick Hardy)
 
Over the past 30 editions of Sheffield DocFest, we have had the great joy of creating a space for documentary makers and lovers to come together and celebrate the work being done by the industry. And one thing we love hearing about are your favourite memories from being at the Festival.
Here are some good, heartfelt, and funny times members of the DocFest team, both past and present, have had since we began way back in 1994. We'd love to hear yours!
Ash Taylor, Volunteer Coordinator
At 2022's festival, a volunteer brought the staff team a cake, and it then turned out it was not only his birthday cake, but a custom one with a photo of him blowing out a cake on it.
 
Ben Taylor, BFI NETWORK Talent Executive
So many – pretty much all of which I can't say frankly. My worst memory was in 2013 when we had Ira Glass, host of This American Life at the festival. I was a massive Ira fan and this was the first time he'd ever given a talk in the UK - it was a real coup to have him with us. It was on the last day of the festival though and having done 5 long days I was very tired. I got to the session just before it was due to start so the only seats were on the front row. Ira Glass introduces himself and I immediately fell asleep. I slept through the whole thing. I dread what he must have thought – this guy has sat on the row right in front of me and slept the whole way through. I felt terrible.
 
Caroline Cooper Charles, Chief Executive, Screen Yorkshire
The Q&A after the screening of 'A Bunch of Amateurs' at last year's festival.  The fact that the film then went on to win the Audience Award was an added bonus.
 
Charlie Phillips, Documentary Producer and Commissioner 
There's so many over so many years, I absolutely love the festival, and I loved working for it, and helping all those filmmakers over the years to get connections and money, and just have a good time. But I beyond the industry stuff I did, I love to think back to the crossover / cross-platform stuff which Heather championed, and which - together with Mark Atkin and a brilliant team - they pioneered before almost any other festival was doing it. And in particular, the year we had Door into The Dark, which was one of Anagram's first projects, in which you were guided through a pitch black warehouse by holding onto a rope, whilst listening to a soundtrack of voices. It was so mysterious, strange, and emotional, especially because you ended up disoriented at the end, in a different place to where you started. How it relates to traditional documentary - who cares! It's just a really cool project of innovation that took you out of your comfort zone, made you feel exhilarated, and connected you with the world. That's what a documentary festival is for I think!  
 
​​

Greg Walker, Production Manager
Last year we had Will Young on a panel in one part of City Hall, and elsewhere Ronan Keating was playing in the venue that day. That meant there was a gaggle of pop fans outside the stage door all day, and they all looked so disappointed every time I stepped out of that door 😅
 
Jo Godfrey, Alternate Realities Programme Coordinator
For YEARS I've been hearing all about the weird and wonderful things going on at Doc Fest and I am excited to be a part of them all this year!
 
Kathy Loizou, Director, The Children's Media Conference
Silly stories and anecdotes are the staples of festivals - many not fit to print. Once, we lost Errol Morris before he was due to give a lecture.  It had been suggested that he go to the next door's fancy Italian café to have his breakfast.  He wasn't there.  Panic ensued. He had made his way to Nibblers, the local greasy spoon, and was seen tucking into a 'proper' breakfast.  
 
Mathy Selvakumaran, Alternate Realities Talent Market Coordinator
I met two filmmakers who were coming to the Marketplace while I was volunteering and gave them directions to a venue - fast forward 5 years and I saw their names as nominees for Best Documentary Feature at the Oscars!
 
Rita Pais, Administrative and Executive Assistant
The end of last year's festival (2022), when all the team got together to celebrate the year's hard work. I really felt part of something great and so important to the world of documentary.