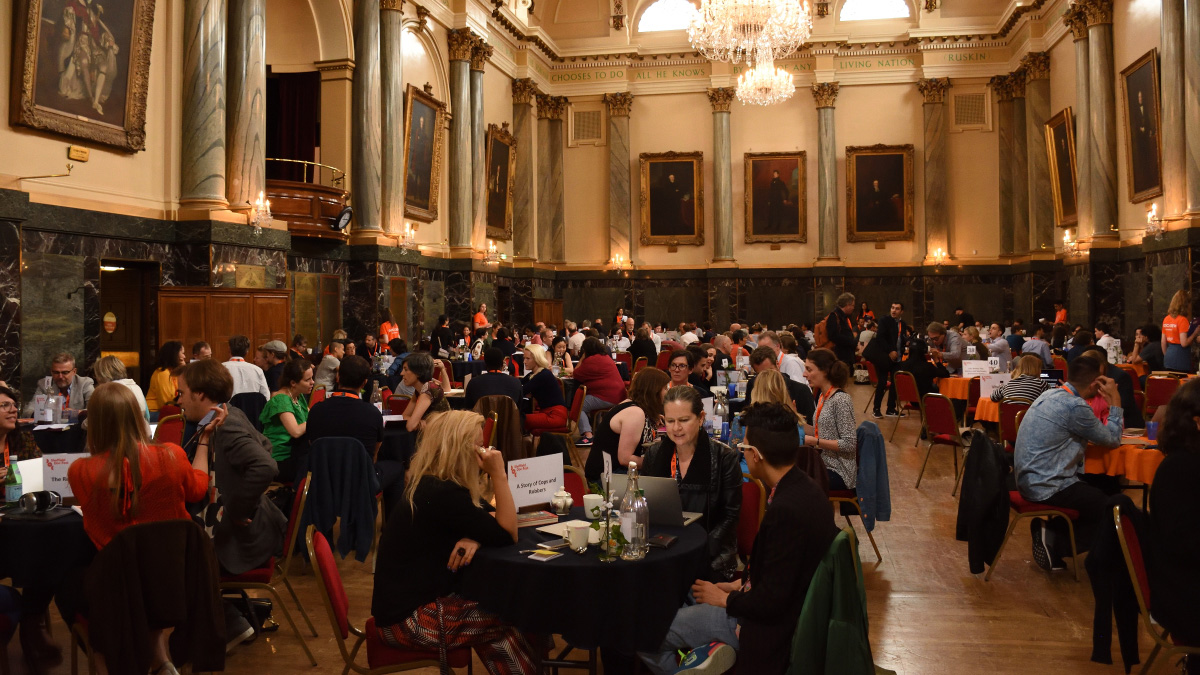 Fifty-five projects have been selected to present to industry partners at the 16th edition of Sheffield DocFest's flagship pitching forum, the MeetMarket.
The projects encompass a wide range of topics, themes, forms, stages of production (development through to rough cut) and are helmed by a mix of emerging and highly experienced and acclaimed filmmakers. 
The MeetMarket slate comprises 31 countries of production/co-production including Argentina, Brazil, Chile, Côte d'Ivoire, Czech Republic, Denmark, Dominican Republic, Estonia, France, Germany, Greece, Hong Kong SAR China, India, Indonesia, Ireland, Japan, Lebanon, Martinique, Mexico, Netherlands, Norway, Poland, Portugal, Russia, South Africa, Spain, Sweden, Switzerland, the United Kingdom, the United States and Zimbabwe. 
These are outstanding new projects, well on their way, that are set to inspire, excite and resonate deeply with audiences worldwide when they come to fruition. As always, our marketplace is a space for discovery. We are delighted to invite teams presenting their work to international partners for the very first time to pitch alongside many of the most experienced and accomplished filmmakers in our community. 
Twelve international industry professionals were involved in assessing the 570+ applications to the MeetMarket, their combined expertise covering production, development, sales, distribution, exhibition, festivals and impact strategy. The 2021 MeetMaket External Assessors included: Alyona Bocharova (Co-Founder and Managing Director - Beat Film Festival / CEO - Beat Films, Russia), Anja Dziersk (Festival Manager - Rise And Shine World Sales, Germany), Ayman El Amir (Independent Producer, Egypt), Carmen Thompson (Researcher + Curator, UK), Chris Harris (Director and Programmer - True Story, UK), Delphine Lievens (Senior Box Office Analyst - Gower Street Analytics, UK), Heejung Oh (Founder + Producer - Seesaw Pictures, Korea), Kirill Sorokin (Co-Founder - Beat Film Festival / Beat Films, Russia), María Vera (Festival Distributor & Sales Agent - Kino Rebelde, Portugal), Stefan Kloos (Managing Director - Rise and Shine World Sales, Germany), Toni Bell (Impact Strategist - Looky Looky Pictures, USA), Varadila Nurdin (Docs By The Sea Program Director, In-Docs, Indonesia). 
The MeetMarket is produced by Manon Euler. 
Contact: manon.euler[at]sheffdocfest.com
MEETMARKET PROJECTS 2021 
A Distant Call
Indonesia, United Kingdom
Director: Andrea Suwito | Producer: Finbar Somers | Co-Producer: Mandy Marahimin
On the island of Sulawesi, Indonesia, an ancient way of life that celebrates five different genders still survives to this day. This community is threatened by extinction when their last leaders must make a critical choice between their culture's survival, or acceptance by society.
A Game of Secrets
Denmark
Director: Niels Borchert Holm | Producer: Peter Engel
A young man hacks the global football industry, exposing the dirty secrets of its biggest stars. His main target, an agent in business with Kazakh oligarchs, wants the hacker convicted and punished. As the world follows the court case, it becomes unclear who is the villain and who is the victim.
A Good Bad Guy (W/T)
United States
Director: Alex Morelli | Producer: Daniel Garber | EP: Sierra Pettengill
After failing to expedite his execution, Scott takes his own life—and sets a filmmaker on an essayistic journey across landscapes of memory to come to terms with the loss.
A Night of Knowing Nothing
France, India
Director: Payal Kapadia | Producer: Thomas Hakim
Details to be announced.
Brotherhood (W/T)
Switzerland, Poland
Director: Hanka Maciag | Producer: Esther van Messel
Torn between worlds of hatred and love, Antek grows up in a Poland of white supremacy. While he gives the Brotherhood knighthood everything, his heart is learning different values.
Call Nina!
Sweden, United Kingdom
Director: Lamin Daniel Jadama | Producers: Lamin Daniel Jadama, Daniela J - Alvarez | Co-Producer: SVT (Theresa Traoré Dahlberg, Emelie Persson)
A film about an inspiring artist who tirelessly works to increase representation and inclusion in performing arts. We start from the British theatre director, Josette Bushell-Mingo (OBE) and her art that illuminates acute societal issues and the importance of not compromising one's artistry.
Celtic Utopia
Sweden
Directors: Lars Lovén, Dennis Harvey |Producer: Elin Lilleman Eriksson
In Celtic Utopia Irish Identity is in focus – the film portrays a new folk music movement - as yet unbaptized - but described as Weird Folk, New Strange Folk Sounds or Gurrier Folk, where "gurrier" roughly means trouble. During this Ballad Tour through Ireland, we ask the question: Can music help a country understand its colonial heritage?
Colors of White Rock
Mongolia, France
Director: Khoroldorj Choijoovanchig | Producer: Tessa Louise Salomé
Maikhuu is one of thousands of coal truck drivers fighting for survival along Mongolia's hazardous mining roads. Her story encapsulates the dilemma the country is experiencing as its decade-long mining boom continues to shake the society.
Dancing on the Edge of a Volcano
Germany, Lebanon, France
Director: Cyril Aris | Producer: Katharina Weser | Co-Producer: Myriam Sassine
A country that hits one disaster after another. A film crew that surmounts the insurmountable to shoot their vision of Lebanon's future. A portrait of the Beirut society in the aftermath of the August 4th 2020 port explosion, struggling to rebuild, resist, and ultimately find life again.
Eternity One
United States
Director: Marnie Ellen Hertzler | Producers: Riel Roch-Decter, Emma Hannaway
As a small island on the frontline of the climate crisis rapidly sinks into the Chesapeake Bay, a tight-knit community must fight to preserve their endangered way of life. Blurring boundaries between fact and fable, Eternity One explores disparate futures for an island community seeking salvation.
Fedora
Portugal, Mexico, United States
Director: Leland Palmer | Producer: Eduardo Ruiz Vasconcelos | EP: Maja Moguel, Diana Ibargüen
In an Upper East Side apartment, married couple Betty (92) and José (56) live in a complicated balance between the fantasy of their past lives and the harsh reality of the present.
Go Come Stay - New Nomads in Europe (W/T)
Germany
Director: Andreas Voigt | Producer: Barbara Etz
'Go Come Stay - New Nomads in Europe' (WT) shows the penetration of globalization into the last corner of the world and above all into the life of each individual. 
Happiness
Russia, Estonia
Directors: Dmitry Kubasov, Anastasia Murashkina | Producers: Max Tuula, Maria Gavrilova
A family of two sisters and a little girl fled from the war in Ukraine to Moscow, searching for a better life. But now they keep waging warfare against each other at their new home. We observe how conflicts, broken hearts, financial and health problems make the women find their own ways in life.
Here, the Silence is Heard
Chile
Director: Gabriela Pena | Producer: Picho García
After arriving in Chile and inhabiting the old house that Gabriela's grandparents had to abandon in exile to Germany and Spain during the military dictatorship, the ghosts of an unstoppable family spell begin to appear at night.
In Your Shadow
Netherlands, South Africa
Directors: Thabi Mooi, Tom Fassaert | Producers: Renko Douze, Hasse van Nunen
Filmmaker Thabi Mooi takes her father on a quest to shed light on his past as an armed ANC soldier and finally face his trauma. On their journey across southern Africa, they become entangled in a world of war and secrecy, as they try to uncover the truth and heal their disturbed bond.
IndieFilm_Upnorth Oct 2020_01
United Kingdom, Norway
Director: Håvard Bustnes | Producer: Carsten Aanonsen
Details to be announced.
Is There Anybody Out There?
United Kingdom, Scotland, United States
Director: Ella Glendining | Producer: Janine Marmot
Inhabiting a bizarrely unusual body (the body I love), and navigating daily discrimination, I search the world for another like me – Is There Anybody Out There?
Israel and Palestine on Swedish TV 1959-1989
Sweden
Director: Göran Hugo Olsson | Producers: Tobias Janson, Dennis Harvey (Assistant Producer)
A feature documentary about how the mother of all conflicts has been depicted on Swedish Television from 1959-1989.
It Didn't Start With You
United Kingdom
Director: Chloe Abrahams | Producer: Emma Norton | Consulting Producer: Diane Quon
Through uncompromising home videos and intimate video diaries, filmmaker Chloe Abrahams explores the lasting impact of a shared trauma which runs through three generations of her family.
Lost Futures
Ireland
Director: Niall McCann | Producers: Matthew Boyd, Tadhg O'Sullivan
A film about the life and writings of Mark Fisher. It's easier to imagine the end of the world, than the end of capitalism.
Love Alone Can't Make a Child
Germany, Norway
Director: Judith Beuth | Producers: Andrew Grant, Stefan Kloos
'Love Alone Can't Make a Child' follows the emotional journey of two women in love who, despite physical, biological & legal obstacles, attempt to fulfil a dream of having a child. Told over many years, it's an intimate exploration in the balance of dependency in a relationship under tremendous stress.
Madame Négritude
United States, France, Martinique
Director: Madeleine Hunt - Ehrlich | Producer: Christine Sanders
'Madame Négritude' is the true story of Suzanne Roussi Césaire, the rebellious writer and wife of the Caribbean's most famous politician Aimé Césaire.
Malcolm
United Kingdom, United States
Co-Directors: Usayd Younis & Cassie Quarless | Co-Producers: Usayd Younis & Cassie Quarless
'Malcolm' tells the story of Malcolm Shabazz, the grandson of Malcolm X, who was found murdered in Mexico in 2013. The film retraces young Malcolm's struggle to fulfil the legacy of one of the 20th century's greatest leaders.
Marai
Brazil
Director: Lara Carmo | Producer: Fernanda Guimaraes Abreu
Heloisa lives off the map. The 5-year-old girl likes to swim in the Amazon river waterways, the igarapés, at night—defying local belief in the dangers posed by the Igarapé Mother spirit. Her world merges with the water world to reveal Marai, a place at the intersection of real and supernatural.
Matabeleland
Zimbabwe
Director: Nyasha Kadandara | Producer: Sam Soko
Political upheaval has left modern-day Zimbabwe stuck in time. But for Chris, Shari and Nokuthaba who call Matabeleland home, the possibility of moving forward hinges on unravelling the secrets of the dead.
Motherboard
United Kingdom
Director: Victoria Mapplebeck | Producer: Carol Nahra | EPs: Debbie Manners , Adam Gee
For seventeen years filmmaker Victoria Mapplebeck has been filming life as a single mother, raising her son Jim, now a teenager. They've faced more than their share of challenges over the years, not least an absent father, breast cancer and a global pandemic.
Mrs Robinson
Ireland
Director: Aoife Kelleher | Producer: Trisha Canning | EP: Cormac Hargaden
With the support of Screen Ireland & full access secured, this is the story of a young dreamer who transformed her country - first as a young lawyer in the courts and later as the first female President of Ireland. Mary Robinson remains one of the world's most influential and inspirational women.
Omitama (W/T)
United Kingdom, Côte d'Ivoire
Director: Matthew Maria | Producers: Joshua Llewellyn, Joël Akafou | Co-Producer: Martina Bassenger
Produced over six years with unprecedented access, 'Omitama' follows three young Ivoirians into the heart of a Japanese cult, which they believe has endowed them with powers that will enable them to save a world on the brink of ecological and political apocalypse.
Q
Lebanon, United States
Director: Jude Chehab | Producer: Jude Chehab
God works in mysterious ways and so do women. For over 50 years a Syrian movement has been secretly growing into the largest Muslim women's organization in the world. 'Q' takes us deep into the mysterious world of the Qubaysiat, through me, my mother and my grandmother's relationship to the group.
Red Herring
United Kingdom
Director: Kit Vincent | Producer: Ed Owles | Co-Producer: Dea Gjinovci | EPs: Rachel Wexler & Jez Lewis
In the midst of shocking family revelations, a young filmmaker is diagnosed with terminal cancer. What follows is an intimate and darkly humorous journey of a family's attempt to make sense of their upended past and disrupted future.
Second Generation
Greece, Spain
Directors: Elpida Nikou, Rodrigo Hernandez | Producers: Elpida Nikou, Rodrigo Hernandez | Co-Producer: Kellen Quinn
'Second Generation' is the story of Miriam and Gloria, 15-year-old West African girls born in Greece, who have the possibility of leading their basketball team to the national championship, an achievement that would fundamentally change their lives.
Sugar Island
Dominican Republic, Spain
Director: Johanné Gómez Terrero | Producers: Fernando Santos Díaz, David Baute
Ana Ingrid's pregnancy occurs parallel to the time of 'zafra'.  Her teenage body is growing,  while the machete cuts the long fields of sugar cane. The harvest ends and a sugar cane worker  is born. The newborn's bawl joins the sugar cane blossoms.
Sunday in Japan
United Kingdom, Portugal
Directors: Leo Nelki, Sunday Bamweyana | Producers: Antonio Ribeiro, Golriz Kolahi
Sunday, a Ugandan man, writes, directs and acts out scenes drawn from his experience as an asylum-seeker in Japan. He is not alone. Together with other members of his community and involving the Japanese people they meet along the way, a new narrative starts to emerge.
The Female Gaze
France
Director: Iris Brey | Producer: Bérénice Vincent
Based on film critic and director Iris Brey's hard-hitting work, 'The Female Gaze' dives into the female experience on screen.
The Last Great Event
Sweden, United Kingdom
Director: Phillip Carter | Producer: Dylan Williams
The dream of a group of young promoters to pull off the world's greatest music festival turns bitter sweet as the chaos that follows their unparalleled success clouds their friendships and lives forever.
The Last Tour of Yemen
United Kingdom
Director: Sean Mcallister | Producers: Sean Mcallister, Erin Bottari 
Kais refuses to give in to the war that has beset his country. He tries to make the best of the situation, relocating his family to the south of Yemen, a 'safe zone', re-establishing his tourism business and welcoming guests. A family story of survival as his country teeters on the edge of starvation.
The Plague
Poland
Director: Monika Kotecka | Producer: Paweł Kosuń
A documentary film essay about anxiety, emotion that infects one's thinking like a virus, that distorts one's perception of reality and disturbs everyday functioning of individuals who face it.
The Untitled Scholars Project
United Kingdom
Director: Eloise King | Producers: Eloise King, Riel Roch-Decter | EP: Patricia Kingori
Details to be announced.
The Time of Pomegranates
United Kingdom
Director: Simon Hipkins | Producer: Simon Hipkins | EP: Charly Feldman
In remote Northern Albania, a 13 year old girl dreams of escaping from a vicious blood feud that has left her imprisoned in the family home for the last 3 years. Can her father's bid for asylum in London save her and her sister? How might life in a completely different world change her?
The Tuba Thieves
United States
Director: Alison O'Daniel | Producer: Rachel Nederveld | Co-producer: Eliza Moley
From 2011-2013 tubas were stolen from Los Angeles high schools. The Tuba Thieves is not about thieves or missing tubas. Instead, it asks what it means to listen.
The White Doctor
Ireland, Kenya
Director: Zippy Kimundu | Producer: Ciaran Cassidy
An American evangelical missionary in Uganda is accused of pretending to be a doctor and being responsible for the deaths of a hundred children.
TISH
United Kingdom
Director: Paul Sng | Producer: Jen Corcoran | Co-Producer: John Archer
Tish Murtha's photography of people on the margins of society in Thatcher's Britain challenged inequality, yet she never escaped the poverty she documented and died aged 56, relatively unknown. TISH follows her daughter revisiting key images and moments in her mother's life to establish her legacy.
Untitled Digital Privacy Project
United Kingdom
Director: Kate Stonehill | Producer: Steven Lake | Co-Producer: Sorcha Bacon
A feature length documentary exploring digital privacy.
Untitled Hydebank Film
Northern Ireland, United Kingdom, United States
Director: Ross McClean | Producer: Bronte Stahl
Ryan finds solace caring for a flock of sheep inside a Northern Irish prison's walls. Released into a dizzying environment, he ventures to start his own flock.
Untitled Marjolaine Grappe Film
France
Director: Marjolaine Grappe | Producers: Dana Nachman, Thierry Marro, Chelsea Matter
Details to be announced. 
Untitled: Miss Africa South
South Africa
Directors: Aliki Saragas-Georgiou, Jacqui-Lee Katz | Producers: Bridget Pickering, Aliki Saragas-Georgiou, Jacqui-Lee Katz | Co-Producer: Darren Kerr
In the early 1970s, a segregated South Africa sent two women to compete at Miss World. One white woman: Miss South Africa, and one Woman of Colour: Miss Africa South. This is the absurd untold story of the forgotten Black beauty queens who were made to compete against their own country.
Untitled Vinay Shukla Project
India
Director: Vinay Shukla | Producers: Vinay Shukla, Khushboo Ranka | Co-Producer: Luke W Moody
Details to be announced.
Vestibule
United States
Director: Riley Hooper | Producer: Caitlin Mae Burke
Harnessing the power of dance as movement therapy and storytelling device, Riley chronicles her decade-long journey to diagnose and treat a vulvar disorder that makes sex painful in this intimate portrait of one woman's fight for sexual health and agency.
Volver a Volver (Return Again)
Czech Republic, Venezuela
Directors: Valerio Mendoza, Jorge Sánchez Calderón | Producer: Katerina Cerna
In the peak of the Venezuelan humanitarian crisis, while thousands cross borders on foot to neighbouring countries, a family dust off their Czech blood hoping to be repatriated to the land of their ancestors. However, unexpected hostilities await for them in Europe and the family starts to crack.
We Are Here to Stay
India
Director: Sunanda Bhat | Producer: Anirban Dutta
Details to be announced.
We are Volcanoes
Hong Kong SAR China
Directors: Sharon Yeung, Natalie A. Chao | Producers: Peter Yam, Sharon Yeung
Details to be announced.
Werner Herzog - Radical Dreamer
Germany, United Kingdom
Director: Thomas von Steinaecker | Producer: Bernhard von Hülsen | Co-Producer: André Singer
Werner Herzog is one of the best-known directors of our time. This film is the first comprehensive portrait for which Herzog has granted exclusive glimpses into his life and work.
Whores Like Us
Argentina
Director: Agustina Comedi | Producer: GUIDO DENIRO, Anahí Farfán
In a post-pandemic city, its sex workers need to secure their livelihood, but their profession cannot elude what is the cause of so much fear, contact between bodies.
Women Against The Bomb
France
Director: Sonia Gonzalez | Producer: Anne Labro
Throughout the 1980s, thousands of women of all ages, backgrounds and nationalities laid siege to the British military base at Greenham Common which housed nuclear missiles. This struggle, one of the most striking of the decade, marked the beginnings of eco-feminism.
Yoyogi
Estonia, Japan
Director: Max Golomidov | Producer: Volia Chajkouskaya, Ivo Felt
Yoyogi is a place of freedom and going beyond everything human. Like the first flight to the sky.
Sheffield DocFest's 2021 MeetMarket, Arts Talent Market and Industry Programme is supported by Arts Council England, the British Film Institute, Creative Europe MEDIA, the Department for International Trade and Getty Images.