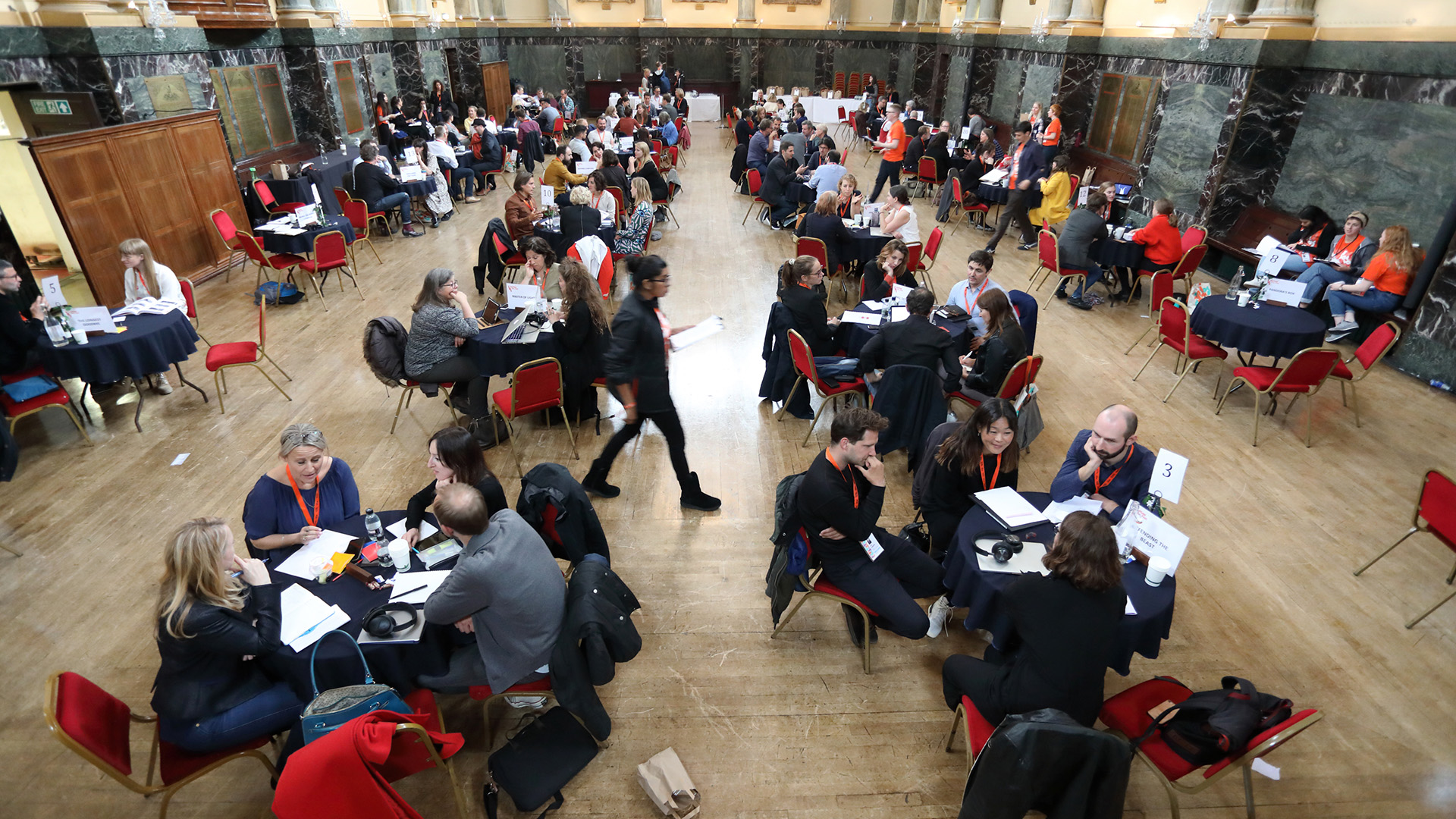 We are thrilled to announce the slate for the 17th edition of our flagship pitching forum, the MeetMarket, taking place on 27-28 of June 2022. It includes 35 international documentary projects in development or at production stage, to be pitched in one-to-one meetings to international and UK decision-makers and experts. The event will be staged in-person for the first time since 2019 and will move online in the days following the Festival.
New work will be presented from directors Chico Pereira (Donkeyote), Kim Longinotto (Divorce Iranian Style), Kimberly Reed (Dark Money), Mark Cousins (The Story of Looking), Mehrdad Oskouei (Sunless Shadows), and Paul Sng (Poly Styrene: I am a Cliché) and from producers David Felix Sutcliffe ((T)error), Ina Fichman (Fire of Love), Kat Mansoor (COW, Rebellion), and Natasha Dack Ojumu (Dying to Divorce, The Lovers and the Despot). 
The MeetMarket selection also includes eleven first-time feature directors including Asmahan Bkerat following a nomadic Bedouin family in Concrete Land, Daniel Chein blending vérité with cyberpunk-inspired science fiction in Time Hunters, and Ragini Nath & Chinmoy Sonowal environmental project Our Hoolocks. 
Projects previously pitched at Sheffield include All That Breathes by Shaunak Sen which won the Grand Jury Prize in Sundance's World Documentary competition this year and the project A Night of Knowing Nothing which premiered in the Directors' Fortnight at the 2021 Cannes Film Festival, where it won L'Œil d'or award for Best Documentary Film. 
The 2022 projects encompass 25 countries of production/co-production: Bahamas, Canada, Central African Republic, China, Costa Rica, Estonia, Finland, France, Germany, Germany, Hungary, India, Iran, Ireland, Italy, Jordan, Kenya, Mexico, Namibia, Poland, South Africa, South Korea, Spain, United Kingdom, United States.
Charlie Phillips, returning to this year's festival as EP, Industry Participation said "We're so excited to be back with an in-person MeetMarket, because the format is all about personal connections. This year's set of projects will take our decision makers all around the world, with one of our best ever ranges of countries represented. We're looking forward to welcoming buyers, funders and sales reps back to Sheffield after 3 years away to experience that unique MeetMarket atmosphere"
Charlotte Reekers, Senior Industry Producer, says "This edition, we're continuing the Industry Programme's wonderful legacy by fostering an open, casual culture both at Cutlers' Hall and online, supporting creative voices to find investors, advocates and collaborators. In addition to our MeetMarket line-up, we look forward to soon revealing the talent who will participate in our revamped programmes which are structured to shake up the industry by encouraging dialogue between new talent and experts."
Around 300 decision makers from 20 countries are expected with execs including those from Netflix, ARTE, DR, VPRO, SVT, POV, SBS, New York Times, ESPN, Al Jazeera, as well as all UK broadcasters and funds confirmed. 
Seven international industry professionals were involved in assessing the applications to the MeetMarket, their combined expertise covering production, development, sales, distribution, exhibition, and festivals. The 2022 MeetMarket External Assessors included: Alexis Galfas (Cinetic Media), Lindsay Poulton (The Guardian), Mandy Chang (Fremantle), Manon Euler (BFI Film Hub Midlands), Rajesh Thind (writer, producer and director), Rei García (Doc & Rio Festival Agency) and Tiny Mungwe (STEPS).
Full list of MeetMarket projects
This year's selection consists of 5 projects from Ukraine in Partnership with DocuDays UA.
Intercepted    
Ukraine, Canada | Director: Oksana Karpovych | Producers: Giacomo Nudi, Rocío Barba Fuentes    
Ivan & Marta. A Day Before the War
Ukraine | Director: Sergey Bukovsky | Producer: Oksana Ivaniouk           
Nice Ladies
Netherlands, Ukraine | Director: Mariia Ponomarova | Producers: Rogier Kramer, Maksym Nakonechnyi, Anna Zobnina, Alina Gorlova
Shut the Fuck Up!   
Ukraine, France | Director: Taisiia Kutuzova | Producers: Stephane Siohan, Olga Beskhmelnytsina
UP IN THE AIR   
Ukraine, Czech Republic | Director: Oksana Syhareva | Producers: Oksana Syhareva, Nataliia Pogudina, Karla Stojakova   
------
40 YEARS OF SILENCE
United Kingdom, Iraq, Sweden
Director: Maythem Ridha | Producers: Maythem Ridha, Andreas Rocksén, Mostafa Nagy
Zainab embarks on a journey she has dreaded, returning from exile in the UK back to Iraq, to discover why her late father tried to assassinate Saddam Hussein… along the way she unravels the dark history of her nation. Will this perilous journey finally heal Zainab's open wounds?
#NunsToo Documentary
United States, Italy
Director: Lorena Luciano | Producer: Filippo Piscopo
After decades of cover-up by the Catholic Church, a handful of survivor nuns break out of isolation, shame, and fear to denounce the sexual and spiritual abuse they suffered at the hands of priests, bishops, and mother superiors. As their voice is yet too quiet, a posse of feminist Catholic journalists and activists comes to the rescue to shatter the Vatican cloak of silence on the best-kept Catholic Church secret since the priests' abuse of minors.
A Fox Under a Pink Moon
Iran
Director: Mehrdad Oskouei | Producers: Mehrdad Oskouei, Siavash Jamali
Soraya is a young Afghan sculptor who works as a caretaker in Iran. Not long ago she unsuccessfully tried to flee to Austria to join her mother. As she believes she has a fox inside her that protects her from all dangers she heads off again to an uncertain future.
A Sudden Glimpse to Deeper Things 
United Kingdom
Director: Mark Cousins | Producers: Adam Dawtrey, Mary Bell 
A love story between an artist and a glacier, invoking themes of neurodiversity, feminism and climate change.
Between the Rains
Kenya, United States
Directors: Andrew H Brown, Moses Thuranira | Producers: Moses Thuranira, Samuel Ekomol, Andrew H Brown, Ngaihike Napuu
As a prolonged drought intensifies the conflict between two pastoral tribes over grazing lands in Kenya's northern rangelands, an orphaned shepherd boy searches for answers while his village reckons with an eroding way of life due to a changing climate.
Brigidy Bram: The Life and Mind of Kendal Hanna
Bahamas, United States, South Africa 
Directors: Kareem Mortimer, Laura Gamse | Producers: Kareem Mortimer, Laura Gamse
In this intimate portrait circling fact and fiction, the true story of prolific painter Kendal Hanna reveals a case study of how society codifies genius—and institutionalizes difference.
COLLATERAL ECHOES
United Kingdom
Director: Baff Akoto | Producer: L-A Appiah 
With contributions from families, stakeholders, artists and activists, COLLATERAL ECHOES is Baff Akoto's verite art film commemorating the Black and Immigrant Britons who have died at the hands of the police since 1969.
Concrete Land
Jordan
Director: Asmahan Bkerat | Producer: Sahar Yousefi
Concrete Land is an intimate look at the lives of a nomadic Bedouin family in its struggle to hold on to its traditional life under the pressures of gentrification. Their only wish as a family is to stay together, with their loyal yet eccentric pet sheep Badrya firmly by their side.
DALTON'S DREAM
United Kingdom
Directors: Kim Longinotto, Franky Murray Brown | Producer: Lorine Plagnol
A young queer musician from rural Jamaica searches for love, acceptance and a place of safety after winning one of the world's top talent competitions.
Eat Bitter
Central African Republic
Directors: Ningyi Sun, Pascale Appora-Gnekindy | Producer: Mathieu Faure
Against the backdrop of civil war in the poverty-stricken Central African Republic, a Chinese construction manager and a local African laborer work on opposite ends of the sand supply chain to build a bank. Attempted suicide, failed coup, shutdown of sand market… as deadlines loom, unexpected twists threaten their jobs, relationships, and plans for a better life.
Emma & Eddie, a working couple
Hungary, France
Director: Gábor Hörcher | Producers: Marcell Iványi, Christine Le Goff
Emma and Eddie live two lives: one on the internet and one in real life. The famous, yet self-destructive, webcam couple from the States is out to save their marriage by reinventing their career and starting their own adult web-studio in Eastern Europe.
Everest Dark 
Canada
Director: Jereme Watt | Producers: Merit Jensen Carr, Ina Fichman, Michael Bodnarchuk, Jereme Watt
Mount Everest has become a graveyard strewn with the bodies of fallen climbers. To appease the gods, famed Nepalese mountaineer and national hero Mingma Tsiri Sherpa risks everything to recover dead bodies off his beloved and sacred mountain.
Faces of Agata
Poland, United Kingdom
Director: Małgorzata Kozera | Producer: Maria Krauss, Peter Fudakowski 
Agata was to die a long time ago. But instead – she was born again. The story of a woman who loves life, struggles with a lethal disease, makes art and keeps asking questions.
Housewife of the Year
Ireland
Director: Ciaran Cassidy | Producer: Maria Horgan
A generation of Irish women look back on a time when they competed on television for the title of 'HOUSEWIFE OF THE YEAR'.
Hummingbirds
United States
Directors: Silvia Castaños, Estefanía Contreras | Producers: Jillian Schlesinger, Leslie Benavides, Miguel Drake-McLaughlin
In this late-night summer self portrait, Silvia Castaños and Estefanía "Beba" Contreras wander the streets of Laredo in search of inspiration, adventure, and a sense of belonging.
I AM IRVINE WELSH
United Kingdom
Director: Paul Sng | Producer: Natasha Dack Ojumu
Cultural icon Irvine Welsh reflects on his remarkable life through the most demanding period of his career so far. A rare glimpse into the mind of a prolific artist at work and play, revealing his creative process across literature, screenwriting, and music.
Life + Life
United States
Director: Contessa Gayles | Producers: Contessa Gayles, Richie Reseda, David Felix Sutcliffe
An incarcerated musician struggles for healing and peace as he comes of age in this documentary-musical odyssey composed behind bars.
Lock-In
Finland, Spain
Director: Chico Pereira | Producer: Kaarle Aho 
A group of young people turning into accidental activists while mimicking their grandparents' mining strike.
Matryoshka
Costa Rica, Mexico
Director: Maricarmen Merino | Producers: Paulina Villegas, Karla Bukantz, Maricarmen Merino
Matryoshka is a mother and daughter dialogue about the journey of transformation one must take in the quest of finding your own voice, so that we can understand the life choices of the women that raised and preceded us.
My Extinction
United Kingdom
Directors: David Proud, Paul Viragh | Producer: Lindsey Dryden
A disabled filmmaker's intimate journey to investigate the eradication of disability by science, posing the question: do disabled people have any place in the future or are we marked for extinction?
Our Hoolocks
India, South Korea, United States
Directors: Ragini Nath, Chinmoy Sonowal | Producers: Gary Byung-seok Kam, Kweighbaye Kotee
Sidhanta, a fisherman, has been fighting to protect the Hoolock Gibbons, India's fast-vanishing ape species, in his village. However, this endearing tale of human-animal coexistence is threatened when a nearby oilfield disrupts the delicate ecosystem and his relationship with the Hoolock Gibbons.
Redlight to Limelight
India, Estonia 
Director: Bipuljit Basu | Producers: Max Tuula, Maria Gavrilova 
A group of sex workers and brothel youth form a film production house in the Kalighat red light area, Kolkata, India. Despite the opposition, they are determined to become filmmakers, resist prostitution among the second generation, and aspire to transform the redlight area into a professional film colony in the post-pandemic time.
Re-Evaluation
United Kingdom
Director: Toby Bull | Producer: Kat Mansoor
Grieving his parents' untimely deaths, filmmaker Toby Bull digs up their journals and home videos. He discovers the childhood abuse they faced and their hopes of healing through the secretive and controversial psychotherapy movement known as Re-Evaluation Counselling.
Searching for Mariam
France, United States
Director: Jehan Selim Harney | Producers: Marc Berdugo, Barbara Conforti, Jehan Selim Harney 
Cinderella is searching for her missing trans friend, Mariam, while trying to find her true self after her Gender Confirmation Surgery (GCS). Their story reveals the underrepresented trans struggle in Egypt… the only Arab country that briefly legalized GCS under the Muslim Brotherhood rule.
The Buddhists of Beara
Ireland
Director: Maurice O'Brien | Producer: Clare Stronge
A moving portrait of a troubled spiritual community as they attempt to build a traditional Buddhist temple on a remote Irish cliff.
The Gender Project (working title)
United States
Director: Kimberly Reed | Producers: Louise Rosen, Kimberly Reed, Robin Honan 
What defines biological sex — science or society? Through immersion in the lives of three activist/scholars who defy simplistic gender labels, the Gender Project blows apart persistent binary notions of gender and the biology of sex to reveal the astonishing spectrum within us.
THE JOURNALIST AND THE JAILER
Germany
Director: Adithya Sambamurthy | Producer: Alex Tondowski
Luna Watfa, a Syrian journalist living as a refugee in Germany, reports on the men who oversaw her detention and abuse, at the world's first trial against members of Bashar al-Assad's regime, for crimes against humanity.
The Portuguese Experiment
United Kingdom
Director: Nick Willing | Producer: Michele Camarda
A compelling feature documentary about how, in 2001, Portugal decriminalised the use of all drugs as a revolutionary answer to the War on Drugs. An emotional film told by the people who lived through it and who eventually succeeded in changing the way we think about addiction.
The Queendom
Mexico
Director: Otilia Portillo Padua | Producer: Paula Arroio Sandoval
Three Mexican women—all indigenous scientists—partner with mushrooms to fight for their lands and cultures. This film joins documentary with science fiction to explore the perspectives of both the humans and their most powerful allies: the fungi.
Time Hunter 
Namibia, Germany, United States
Directors: Daniel Chein, Mark Mushiva | Producers: Daniel Chein, Mark Mushiva, David Felix Sutcliffe
A revolutionary agent is dispatched to steal technology from his colonial oppressors to use against them. Can he help his people without losing himself in the maze of the diaspora?
To Use a Mountain 
United States
Director: Casey Carter | Producer: Colleen Cassingham
Seconds of exposure, generations of debate, the history of nations, and epochs of geologic change - all overlap in the landscapes that define the American nuclear legacy and the quest to isolate 77,000 tons of nuclear waste for 10,000 years.
Untitled Fan Ruozhou Project
China, United Kingdom
Director: Fan Ruozhou | Producer: Chen Daishan | Co-Producer: Lasse Johansson
Details only available to selected decision makers & experts.
THE WIFE OF
Estonia
Director: Volia Chajkouskaya | Producers: Ivo Felt, Christian Popp, Marius Markevicius, Volia Chajkouskaya
Details only available to selected decision makers & experts.
Information about the 35th project is only available to selected decision makers & experts.