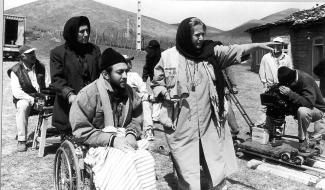 Book Tickets
Join us for a special conversation about internationally and critically acclaimed Iranian film director and screenwriter, Rakhshan Banietemad.
Unfortunately Rakhshan Banietemad is unable to attend the festival in person due to ill-health. However we are delighted to present a curated retrospective of her films, with bespoke pre-recorded introductions across the festival.

We are honoured to highlight her work, with this newly revised in-conversation event with Award-winning producer Elhum Shakerifar and acclaimed academic Maryam Ghorbankarimi who will reflect on Rakhshan Banietemad's expansive career to date. This conversation will reflect on her body of work, as well as premiering a short film she created during the pandemic, Narratives ad hominem. 
One of Iran's most celebrated filmmakers, Rakhshan Banietemad  is often referred to as the "godmother of Iranian cinema". Her wide-ranging and bold collection of works focus on poverty, criminality, divorce, polygamy, social norms, cultural taboos, women's oppression, and cultural expectations. As a key figure on the landscape of Iranian documentary filmmaking, Rakhshan's work has undoubtedly shaped and influenced the industry and its creatives in the region.

Panellists: Elhum Shakerifar & Maryam Ghorbankarimi.

Please click here for venue accessibility information.