Castillo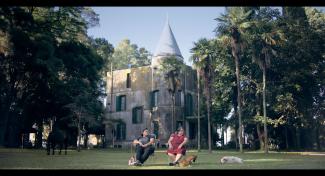 Book Tickets
Martin Benchimol's fascinating film is a singular portrait of a domestic worker who lives with her daughter in a ramshackle castle.

In the rural and sparsely populated Argentinian province of La Pampa lies a castle in a state of disrepair. Justina has lived there since she was five, spending her entire working life as a servant to its owner. When they died, the property was left to her to continue living in, on the condition that she did not sell it. But it's proving too difficult to look after and is rapidly being overrun by all manner of plants and wildlife. Meanwhile, Justina's daughter wants to leave and pursue her dream of becoming a Formula 4 driver. With echoes of the Maysles' classic 
Grey Gardens
 and Luis Buñuel's 
The Exterminating Angel
,
The Castle
 blurs the line between documentary and drama as it captures daily life for the women in the otherworldly environment they inhabit.
Awards

Strands

Topics

Premiere status

UK premiere
Film details
Director(s)

Martin Benchimol

Country(s)

Year

2023

Duration

78 mins

Producer(s)

Mayra Bottero, Gema Juárez Allen, Clarisa Oliveri

Cinematography

Nico Miranda, Fernando Lorenzale

Co-Producer(s)

Heidi Fleisher, Julie Paratian, SISTER Productions

Editing

Ana Remón

Sound

Sofía Straface

Production company

Gema Films

Language(s)

Spanish

Certification