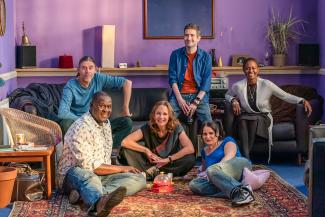 Book Tickets
In 2002 one man set out to change reality TV forever. For 30 people, his dream became a nightmare.

In the early 2000s, Reality TV as we know it was born. Set against the backdrop of a new millennium, this series follows six young people seeking fame and fortune by being part of a new, top secret, reality TV show. They left their jobs, homes and partners, and after a gruelling audition process and months of waiting - travelled to London to start their adventure. 20 years after their dreams were shattered, the people caught up in 'Project MS-2' are still searching for answers; trying to understand how a show that didn't exist, and the disappearance of the man who orchestrated it all, changed their lives forever. 
This event is an exclusive preview of the first episode of an upcoming Prime series, followed by a conversation with the creators and special guests. 
Special Programmes

Topics

Premiere status

World premiere
Film details
Director(s)

Ashley Francis-Roy

Country(s)

Year

2023

Duration

60 mins

Executive producer(s)

Emily Dalton / Factual Fiction, Jon Smith, Tom Dalton / Factual Fiction

Producer(s)

Nina Elmatzioglou, Liam Coutts, Sian Guerra

Cinematography

Michael Filocamo, Duncan Telford

Editing

Ben Brown, Martin McDonnell, Mark Hammill

Sound

Jack Cook

Language(s)

English

Certification