NUESTROS CUERPOS SON SUS CAMPOS DE BATALLA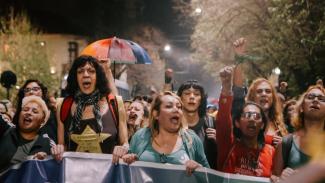 Book Tickets
Isabelle Solas' film is a powerful, moving and urgent spotlight on the fight for trans rights across Argentina's polarised political landscape.
An entrenched conservatism currently battles with increasing calls for women's and trans rights in Argentina. Within this schism live Claudia and Violeta, trans women who identify as transvestites. They lead the fight, along with their comrades and supporters, against a patriarchal culture of violence and oppression. Such activism is not without its dangers; the country has recently seen a spike in the number of trans murders. But the outpouring of grief has also galvanised a wider community to close ranks in their support of individual rights – to be able to live free from prejudice and the threat of physical harm.
Content Guidance: Film contains discussions about sex.
Strands

Topics

Premiere status

UK premiere
Film details
Director(s)

Isabelle Solas

Country(s)

Year

2021

Duration

100 mins

Producer(s)

David Hurst

Cinematography

Isabelle Solas

Editing

Anne Riche

Sound

Victoria Franzan, Maxime Berland, Victoria Marechal

Language(s)

Spanish

Subtitles

English Subtitles Throughout