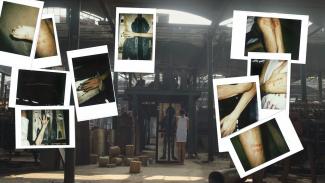 Show Information
An interactive web installation in which each participant creates a unique experience based on letters chosen from a theory-linked queer alphabet.

Each experience in this project is constructed by the viewer and autogenerated from a curated set of 26 site-specific, non-binary performances by Indian queer artist Kaur Chimuk. Participants begin their experience by entering a word. Every letter of the word is then linked to one of 26 performances tied to a glossary of queer theory. It ranges from A for appearance, B for binary, C for construction to H for hegemony, K for kinship and ends with Z for theorize. A unique film is then created, inspired by the participant's choice, and at the end of the film they will receive a bespoke queer pamphlet based on the word they made using the letters from the queer alphabet.

Content Guidance: contains nudity.
Topics

Premiere status

UK premiere
Film details
Artist(s)

Soumya Mukhopadhyay / Cherrypix Movies

Country(s)

Year

2022

Duration

30 mins

Producer(s)

PATRALIKA MUKHOPADHYAY / Cherrypix Movies

Cast

Kaur Chimuk

Editing

Amit Ray, Sharmistha Chakrabartty

Production Designer

Partha Das

Sound

Shubharun Sengupta, Dibakar Saha

Language(s)

Bengali, English, Hindi, Tamil

Subtitles

English