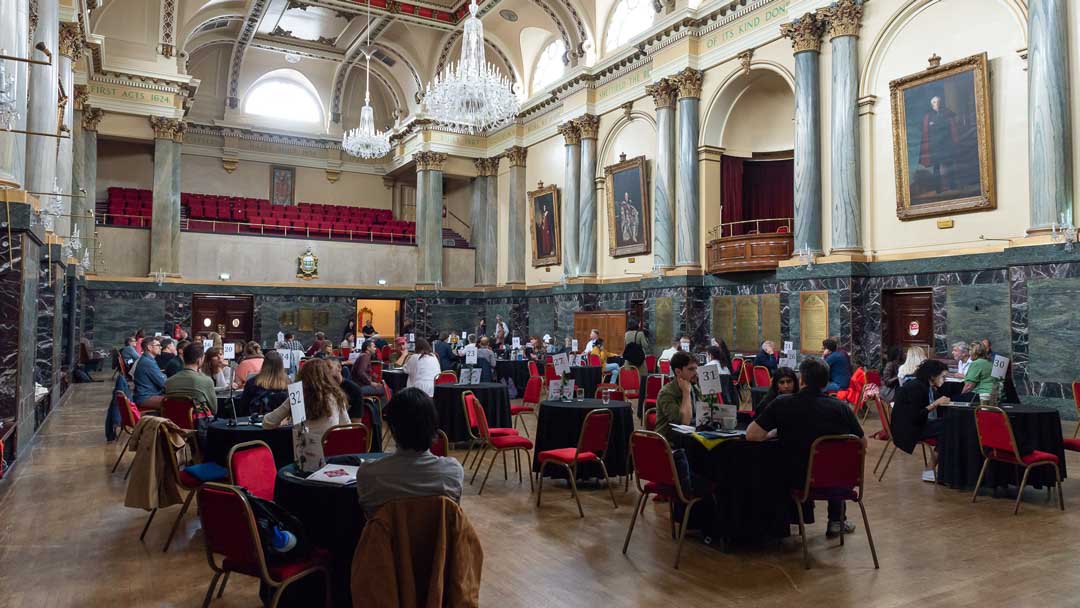 We are delighted to announce the selection for the 18th edition of our flagship pitching forum, the MeetMarket, which will take place on Thursday 15 and Friday 16 of June 2023. The slate includes 48 documentary projects, in development or at production stage, to be pitched in one-to-one meetings to international and UK industry representatives and experts.
Drawn from over 500 submissions, new work will be presented from directors including: Rodrigo Reyes, winner of 2022 Sheffield DocFest International Competition; Ike Nnaebue of No U-Turn, a project developed as part of Generation Africa; Sean McAllister who will present a follow up work from the 2008 film Japan A Story Of Love And Hate and Victoria Mapplebeck's long awaited Motherboard will be presented in the newly created addition of Rough Cut screenings.
Projects previously pitched at the Sheffield Meetmarket include Against the Tide, Iron Butterflies, Is There Anybody Out There?, Milisuthando and The Tuba Thieves – and all of these films premiered at Sundance Film Festival 2023. Hummingbirds, which was also part of last year's MeetMarket selection, premiered at Berlinale in February.
The 48 projects in the 2023 edition encompass 37 countries of production/co-production: Belgium, Bulgaria, Canada, Chile, China, Denmark, Ecuador, Finland, France, Georgia, Germany, India, Iran, Ireland, Israel, Italy, Japan, Lithuania, Mexico, Netherlands, Nicaragua, Nigeria, Northern Ireland, Norway, Palestine, Philippines, Poland, Scotland, Singapore, Spain, South Africa, South Korea, Sweden, Ukraine, United Kingdom, USA, and Venezuela.
Lisa Marie Russo, Producer and Marketplace Consultant, says: "Sheffield DocFest MeetMarket is the centre of gravity for financing, networking and conspiring to change the world with ambitious and surprising documentaries. The 2023 slate of projects show filmmakers continuing to innovate, inspire and delight, with a range of energetic must-see stories from around the globe."
Charlotte Reekers, Marketplace & Talent Manager, and Raul Niño Zambrano, Creative Director say: "For 30 years, Sheffield DocFest has created a space for industry professionals to meet in an open, welcoming and intimate way that provides access for everyone who wants to get their project off the ground. We continue to focus on bringing people together at all levels of experience, stimulating creative collaborations among professionals working on documentaries of all kinds - feature film, factual, series, and new media."
This year, 15 UK and international industry professionals used their combined expertise in production, development, sales, distribution, exhibition, and festivals to assess the applications received to the MeetMarket.
The 2023 selectors were:
Anam Abbas (Director/Producer), Andrea Hock (Autlook Filmsales), Carlos A. Gutiérrez (Cinema Tropical), Charlotte Reekers (Sheffield DocFest), Elçin Bahçeci (Filmmaker), Hicham Falah (FIDADOC), Jeffrey Winter (The Film Collaborative), Lisa Marie Russo (Producer, Marketplace Consultant), Manon Euler (Film Hub North), Marina Burić (Industry Consultant), Rico Johnson-Sinclair (Industry Consultant), Raul Niño Zambrano (Sheffield DocFest), Robert Colom (Third Horizon), Seggen Mikael (Industry Consultant) and Sophie Duncan (Sheffield DocFest). 
 
Full list of MeetMarket projects
MeetMarket Rough Cut Projects
This year's selection includes 6 projects which will be presented as part of our new Rough Cut screenings.
Casas Muertas
Venezuela, Ecuador, Germany, Spain 
Director: Rosana Matecki | Producers: Rosana Matecki, Natalia Imaz (Parabellum Film), Claudia Lepage | Executive Producers: Rosana Matecki, Natalia Imaz (Parabellum Film), Claudia Lepage
Venezuela submerged and dark. The present of Venezuelans trapped in exile in their own country, drowned by the whim of some barbarians who rule it. Isabel, Jesús, Darwin and Juan Pablo's parents survive by resisting, desperate and cornered between flight, hunger and resilience.
Life is Beautiful
Norway 
Director: Mohamed Jabaly | Producer: KriStine Skaret (Stray Dog Norway AS) | Executive Producer: Mohanad Yaqubi
Stuck in the Arctic, a young Palestinian filmmaker is forced to confront what it means to be stateless and displaced - labels he resists. With his camera as a witness, he records seven years of triumph, defeat, and perseverance, as he fights for his right to self-determination. 
Mother Vera
United Kingdom 
Directors: Cécile Embleton, Alys Tomlinson | Producers: Laura Shacham (She Makes Productions)
In a hidden Orthodox monastery in Belarus, Mother Vera weaves the inner world of an unorthodox young nun with the community that saved her life. After 20 years as a  monastic, Vera faces deep inner conflict; now, she must confront her past and trust her instincts to find the liberation she desires.
Motherboard
United Kingdom 
Director: Victoria Mapplebeck | Executive Producer: Debbie Manners (First Person Films) | Producer: Victoria Mapplebeck
BAFTA winning Director, Victoria Mapplebeck, has created the first iphone feature documentary which charts the joy, pain and comedy of raising her 19 year old son Jim alone. Motherboard is a celebration of motherhood and a survivor's guide to 'nuclear family fall out'.
 
A Poem For Little People
Ukraine, Lithuania
Director: Ivan Sautkin | Production: Babylon 13 | Executive Producer: Elena Saulich
 
Vagrant Master
China, Netherlands 
Directors: Weixi Chen,  Weichao Xu | Producer: Jia Zhao (Muyi film) 
A man starts to lose control of his life when the overnight fame puts his feet back on the society once left him behind.
----
MeetMarket Projects
#WhileBlack
Canada 
Directors: Sidney Fussell, Samantha Knowles | Producers: Ann Shin (Fathom Film), Geeta Gandbhir | Executive Producers: Ann Shin (Fathom Film), Geeta Gandbhir, David Oyelowo
Witnesses who filmed the deaths of George Floyd and others step forward in this ground-breaking documentary about viral videos that have ignited global movements. Millions have seen these horrifying videos, but few realise how citizen journalists must fight against online trolls, police surveillance, and exploitative social media platforms that turn their pain into profit.  
All Shields Up
United Kingdom
Director: Felipe Bustos Sierra | Producer: Ciara Barry (Barry Crerar Ltd)
An eight-hour standoff begins in the most culturally-diverse neighbourhood in Scotland when neighbours and activists surround an Immigration "dawn raid" van to stop the UK Home Office from deporting two residents.
 
The Art of Seeing
United Kingdom
Directors: Rory Gordon, Bexie Bush | Producer: Fiona Neilson (Mint Pictures)
A cinematically innovative blend of archival film and expressive animation with audio interviews from Aldous Huxley's inner circle tells the incredible story of an upper class Victorian boy who grew up to become a psychedelic icon.
Artificial Clouds
Chile 
Director: Josefina Buschmann | Producer: Daniela Camino (Mimbre Films)
Artificial Clouds is a poetic journey through the life and death of a cloud computing system, from mineral extraction to electronic waste. Along the way, the cloud encounters beings and communities that live alongside it or resist its presence, perceiving the planetary damage it causes while envisioning other possible futures and posing a critical question: can technology develop without sacrificing ecology and communities? 
Border Town
United Kingdom
Director: Jessi Gutch | Producers: Nikki Parrott (Tigerlily Two), Charlie Phillips (I am Charlie Ltd)
Fishermen and artists; refugees and gentrification - Folkestone is a tale of two towns. What can this eccentric English border community tell us about where a divided and disempowered Britain has ended up, and where we're going?
Breaker
Denmark, Netherlands, United Kingdom 
Directors: Anita Mathal Hopland, Jens Lengerke Producers: Kasper Lykke Schultz (Elk Film), Birgitte Keseler (Elk Film), Andreas Møl Dalsgaard, Oli Harbottle (Dogwoof), Anna Godas (Dogwoof)
With exclusive access, Breaker follows world's best B-boys and B-girls as they defy gravity and their own demons on a dramatic, year-long journey culminating in the greatest of all breaking battles as they compete for gold at the Paris Olympic games in 2024.
Buried
United Kingdom 
Director: Dan Ashby | Producer: Lucy Taylor (Smoke Trail Productions)
A husband-and-wife investigative duo follow clues left in a deathbed confession tape left by a trucker caught up in one of the biggest environment crimes in UK history - the secret dumping of a million tonnes of toxic waste. They expose a growing UK mafia - getting rich on what we all throw away.
 
Camels of the Sea
India 
Director: Vikram Singh | Producer: Mandakini Gahlot (Elefant) 
For generations, Fakirani Jats like Adam Abdrehman have travelled the coast of western India with the Kharai, a special breed of sea-going camels that feed on mangroves. As illegal salt pans destroy the mangroves, Adam must decide whether to abandon the community's herd of 160 camels.
EatenFish
Norway 
Director: Daniel Nils Roberts | Producer: Anne Köhncke (Final Cut for Real Norway)
Cartoons won Ali Dorani his freedom from years of refugee detention. Can he now use them to leave the past behind?
 
Elevated
Sweden, Scotland 
Director: Gustav Littorin | Producers: Ashley Smith (Sisyfos Film Production), Clara Harris (Sisyfos Film Production)
Riding elevators provides Andrew an escape from the world outside. Growing up on the autism spectrum has always made him feel like an outsider. When he posts an elevator video online, he suddenly sparks a community of like-minded souls into existence. A network of friends and deep connections bring Andrew's life surprising new meaning.
 
Finding El Dorado
Germany, Nigeria 
Director: Ike Nnaebue | Producers: Asbirg Naranjo (Andersona Films & Amuché prod),  Ike Nnaebue
Finding El Dorado is a journey through Europe, portraying the lives of Westafrican migrants who (seemingly) made it – in the eyes of the ones back home. Was it all worth it? What is their perspective?
 
Forest
Poland 
Director: Lidia Duda | Producers: Michał Ostatkiewicz (Lumisenta Film Foundation), Patryk Sielecki (Lumisenta Film Foundation) , Aleksandra Ostatkiewicz | Executive Producer:  Anna Bławut-Mazurkiewicz
Asia and Marek created their own paradise in the forest, a place where their children were going to grow up safely, far away from the problems of today's world. Yet, one day, big politics came knocking on their door. And nothing was the same anymore.
 
Four Architects, in Ukraine
United Kingdom, Ukraine 
Director: Paul Thomas | Producers: Steve Cole, Paul Thomas (Jackamo Productions)
As Ukraine focuses its resources on fighting back Russian aggression, 4 Ukrainian architects drive an array of reconstruction projects forwards – using some distinctly Ukrainian tactics to reach their goals, and we see that the fire of creativity burns far brighter than the fires of destruction.
 
Get Your 10s
USA 
Directors: Rashaad Newsome, Johnny Symons | Producers: Johnny Symons (Persistent Visions), Rashaad Newsome (Rashaad Newsome Studio)
A Black queer artist from the American South collaborates with global vogue dancers and a non-binary artificial intelligence to transform a historic military building into a space for renewal, innovation and celebration.
 
The House Is Still Dark
Denmark, Nicaragua, USA 
Director: Felipe Roa Pilar | Producers: Thor Hampus Bank (GotFat Productions), Dara Nicole Diaz Rios
Within the Nicaraguan jungle, a mental disorder appears among isolated indigenous communities. A psychologist sets out on a journey to find the cause of the illness. Along the way, he witnesses frightening testimonials and symptoms that relate to acts of violence, rape, and murder by landgrabbers.
I Made a Mistake Coming Here
France, Georgia 
Kseniya Halubovich | Producers: Louis Beaudemont (Les Steppes), Paata Godziashvili (Phonograph)
Like thousands of other refugees, Aziz's family has been trapped by the Belarusian government in a cynical geopolitical conflict. Helped by local volunteers who are risking their lives, Aziz faces an uncertain future as his life is threatened back in Iraq.
I Want to Kill My Grandfather
Mexico 
Directors: Lilyana Torres, Carlos Morales | Producer: Gabriel Stavenhagen (The Lift), Bettine Mackenzie
This is my attempt to find the best way to kill my grandpa, guided by a detective and followed by a film crew. We plan on tracking him down to uncover the secrets of a family fragmented by the violence in Mexico. Oh yeah and, of course, kill him.
 
Issa's House
Palestine, Israel
Director: Tomer Heymann | Producers: Issa Amro, Tomer Heymann (Heymann Brothers Films), Lukasz Konopa, Ahmad Amro | Executive Producers: Ahmed Azzeh, Muhanned Qafesha, Izzat Karkei
Issa and his brave group of non-violent activists do more than guard a small, Palestinian-owned home in Hebron—they pose an existential threat to Israeli occupation itself. Issa's House gives voice to their stories of solidarity and camaraderie in the face of seemingly insurmountable oppression.
Japan A Story of Love and Death
United Kingdom, Japan, Finland, Ireland, Norway 
Director: Sean Mcallister | Producers: Chris Hees (10Ft Films), Sean Mcallister | Executive Producer: Ryota Kotani
Knowing he hasn't got long to live after overcoming stage 4 cancer, Naoki 66 a lifelong Japanese rebel wants to make amends to the people he has wronged in his life making a 'journey of atonement' to say sorry and to be reunited with Taichi the 3 year old son he abandoned from his first marriage. 
Joy Dancer
USA 
Directors: Suzanne Smith, Sylvia Solf | Producers: Suzanne Smith (Vizione Films), Nkosinathi Mncube
Joy Dancer takes us on a journey with Gregory Maqoma, South African dancer, choreographer, and activist. We follow him as he creates his latest work, Broken Chord, inspired by the rediscovered history of The African Choir's first tour to Britain.  Fusing Xhosa with contemporary dance and powerful acapella voices, he brings erased history back to life for a direct conversation with Europe about the legacies of colonialism today.
 
Live at the Deaf Club
USA, United Kingdom, Canada 
Director: Jevon Whetter | Producers: Delbert Whetter (Exodus Film Group), Justin Maurer, Jevon Whetter
In the late 1970's, nascent punk rock bands struggling to find a home for their raucous and subversive music found an ideal partner in the most unlikely place: The San Francisco Deaf Club.
 
Marching in the Dark
Belgium, Netherlands, India 
Director: Kinshuk Surjan | Producers: Evelien De Graef (Clin d'oeil films), Hanne Phlypo (Clin d'oeil films) 
In a drought-struck region in India, suffering from climate change and a high suicide rate amongst farmers, a group of resilient women farmers, who recently lost their husbands, is coming together with a local psychologist to learn counselling and help others in grief.
 
Millionaire
Chile 
Directors: José Ignacio Isla, Felipe Isla | Producers: Ainara Aparici, Daniela Valenzuela | Executive Producer: Ainara Aparici, Daniela Valenzuela, José Isla, Felipe Isla, Inti Cordera
A humble farmer becomes the winner of the lottery, but inadvertently loses the ticket and finds it days later in the trash. Along with his family and friends, he begins a big odyssey to recover the prize.
Molka
South Korea, United Kingdom, Germany 
Directors: Ieva Zellite, Olivia Neller | Producer: Andrew McLain
Two filmmakers follow South Korean survivors and activists in their fight against Korea's 'spy-cam epidemic', only to discover the issue is closer to home than they could have ever imagined.
 
The Monster of El Estor
Canada
Directors: Nadine Pequeneza, Ricardo Acosta | Producers: Nadine Pequeneza (HitPlay Productions), Ricardo Acosta
The Monster of El Estor is the tale of a demon that has inhabited a remote, rural town in Latin America since the 1960s and a people's struggle to conquer its evil spirit.
Moscow Nights
Ireland, Germany, Bulgaria 
Director: Irina Maldea | Producers: Brendan Culleton (Akajava films), Sorin Manu, Ralitsa Golemanova
How could the current war in Ukraine have been prevented?  Thirty years ago, the New Thinking of Mikhail Gorbachev was dismissed as a utopian fantasy, but a chance for long-lasting peace was lost forever in the pursuit of short-term gain.
 
Past Future Continuous
Norway, Iran, Italy 
Directors: Firouzeh Khosrovani, Morteza Ahmadvand | Producers: Fabien Greenberg (Antipode Films), Bård Kjøge Rønning (Antipode Films) | Executive Producer: Firouzeh Khosrovani
For forty years, my cousin Maryam, a reluctant immigrant in the US, has not forgotten her escape from mountainous Iran's border wrapped in a sheep's skin.

The Peace Piano
United Kingdom, Canada, France
Director: Rupert Clague | Executive Producer: Clive Patterson (Insight TWI Films)
He is "the Prophet of the Piano" - a man born in a Ukrainian refugee camp who has completely revolutionised the world of the piano. On record as the world's fastest pianist - playing 40 notes per second - 74 year old Lubomyr Melnyk is the world's first, and possibly the last, 'Continuous' pianist.
 
Power
United Kingdom 
Directors: Hilary Powell, Dan Edelstyn | Producers: Hilary Powell (Optimistic Foundation), Dan Edelstyn (Optimistic Foundation), Christo Hird
Two artists have a solar punk vision to turn their diverse street into a self-sustaining power station. Can the community come together to raise the money and convince their neighbours? can they both take on and make new structures of power – both political and energy?

The River
USA 
Director: Caitlyn Greene
The River is a character-driven documentary feature in Louisiana about the Mississippi River and the control of nature.
 
Runa
Poland, Denmark 
Director: Agnieszka Zwiefka | Producers: Zofia Kujawska (Chilli Productions), Sigrid Dyekjær (Real Lava),  Agnieszka Zwiefka
After her mom's tragic death on the Polish-Belarusian border a 16-year-old Kurdish girl has to become a mother for her 4 younger brothers as the family deals with trauma and tries to establish a new life in Europe. A partially animated coming-of-age story in the shadow of a global refugee crisis.
 
The Shields
Ireland 
Director: Frankie Fenton | Producers: Frankie Fenton (Kennedy Films Ltd),  Kathryn Kennedy Fenton | Executive Producer: Maurice Dekkers
Recently found footage reveals how a renegade group of activists took a treacherous voyage on 3 double decker buses from London to Baghdad. Putting their bodies on the line as the bombs fall they ask: what can one person do to stop a war?
 
State of Betrayal
Scotland, Northern Ireland 
Director: Paul Sng | Producers: Sinead Kirwan (Enemy Films), Chris Patterson (Causeway Pictures) | Executive Producer: Sarah Drummond (LS Films)
Lied to. Spied on. Betrayed by her fiancé. In her quest to uncover the truth about why she was targeted by an undercover spy cop, Donna McLean exposes an intricate 50-year web of deceit in the British state. 
Tens Across the Borders
Philippines, Singapore, Germany, United Kingdom 
Director: Chan Sze-Wei | Producers: Alemberg Ang (Daluyong Studios), Chan Sze-Wei | Executive Producers: Daniel Karslake, Derren Lawford (DARE Pictures) 
Four Southeast Asian youth discover the colorful and dynamic vogue and ballroom subculture. We witness their journey to build their own ballroom families, connect with voguing's source in New York City, and grow a flourishing queer community across the region.
Ultrasonic
Canada 
Director: Shannon Kennedy | Producer: Ann Shin (Fathom Film) | Executive Producer: Ann Shin (Fathom Film)
From cosmic sound waves to the pulsing of cells, scientists are turning up the volume on forces once too quiet for any of us to hear. As researchers push the boundaries of accepted scientific thought, they are calling into question some of our deepest held assumptions. Are we ready to listen?
 
Untitled Teesside Project
United Kingdom 
Director: Jeanie Finlay | Producers: Charlie Phillips (I am Charlie Ltd),  Jeanie Finlay 
An urgent, funny and tender feature documentary made in the North East, by Jeanie Finlay, in the place where she grew up.
 
The Vanished
United Kingdom 
Director: David Whitney | Producers: Trevor Birney (Fine Point Films), 
Jim O'Hagan (Fine Point Films), Eimhear O'Neill,  Kyoko Miyake,  David Whitney
In the 1970s and 80s, hundreds of ordinary Japanese citizens vanished in strange circumstances. For years after, their families and the government searched for answers, until a deadly plane crash uncovered a terrible truth.
 
Warrior Mothers
Mexico, USA 
Director: Rodrigo Reyes, Dawn Valadez | Producers: Su Kim (Grumpy Squared LLC), Rodrigo Reyes (Grumpy Squared LLC), Inti Cordera,  Carter Logan,  Alysa Nahmias,  Amaranta Díaz
In Mexico, thousands of young girls are murdered each year and no one is held accountable. In the face of rampant corruption and death threats, Lorena leads a group of mothers as they decide to launch a protest that will bring the fight to Mexico's president.
Wildfire
South Africa, Canada 
Director: Zahra Moloo | Producers: Neil Brandt (Storyscope), Sergeo Kirby (Loaded Pictures)
In Wildfire, two activists in central Africa fight to prevent their land being turned into national parks. Their story reveals the conflicting interests of conservation organizations, indigenous people and multinational corporations.
 
Wing
India, USA, United Kingdom, South Africa 
Director: Neelu Bhuman | Producer: Neelu Bhuman (Moving Dreams Studios) | Executive producers: Cat Burton, Marc Smolowitz, Andrew Nicholson,  Sheila Houlahan,  Hariharan Krishnan,  Ferry Jele
Young Muslim transman Adam Harry dreams of becoming a commercial pilot. After escaping pernicious family persecution, he is armed with a Kerala government scholarship, a growing fanbase, and media presence. Will this be enough to help Adam defy bureaucratic discrimination and continue his training to become the first transgender commercial pilot of Indian origin?
 
World Makers (working title)  
USA 
Directors: Ashley Simone Tyner, William Tyner | Producers: William Tyner (DELU Productions), Ashley Simone Tyner (DELU Productions)
Grappling with the impact of George Floyd's murder, three Black women in Minneapolis help the community remember their pain, tell their truths, and find their power within to fight for justice.
 
Zero Hour
India 
Directors: Nachiket Guttikar, Deeksha Ketkar | Producers: Arya Rothe (NoCut Film Collective),  Cristina  Hanes,  Isabella  Rinaldi,  Deeksha  Ketkar,  Nachiket  Guttikar 
An intimate portrait of a politician from a deceptively quiet Indian village, who has to choose between his career ambitions and his family's demands, after his teenage son takes a radical step behind his back.