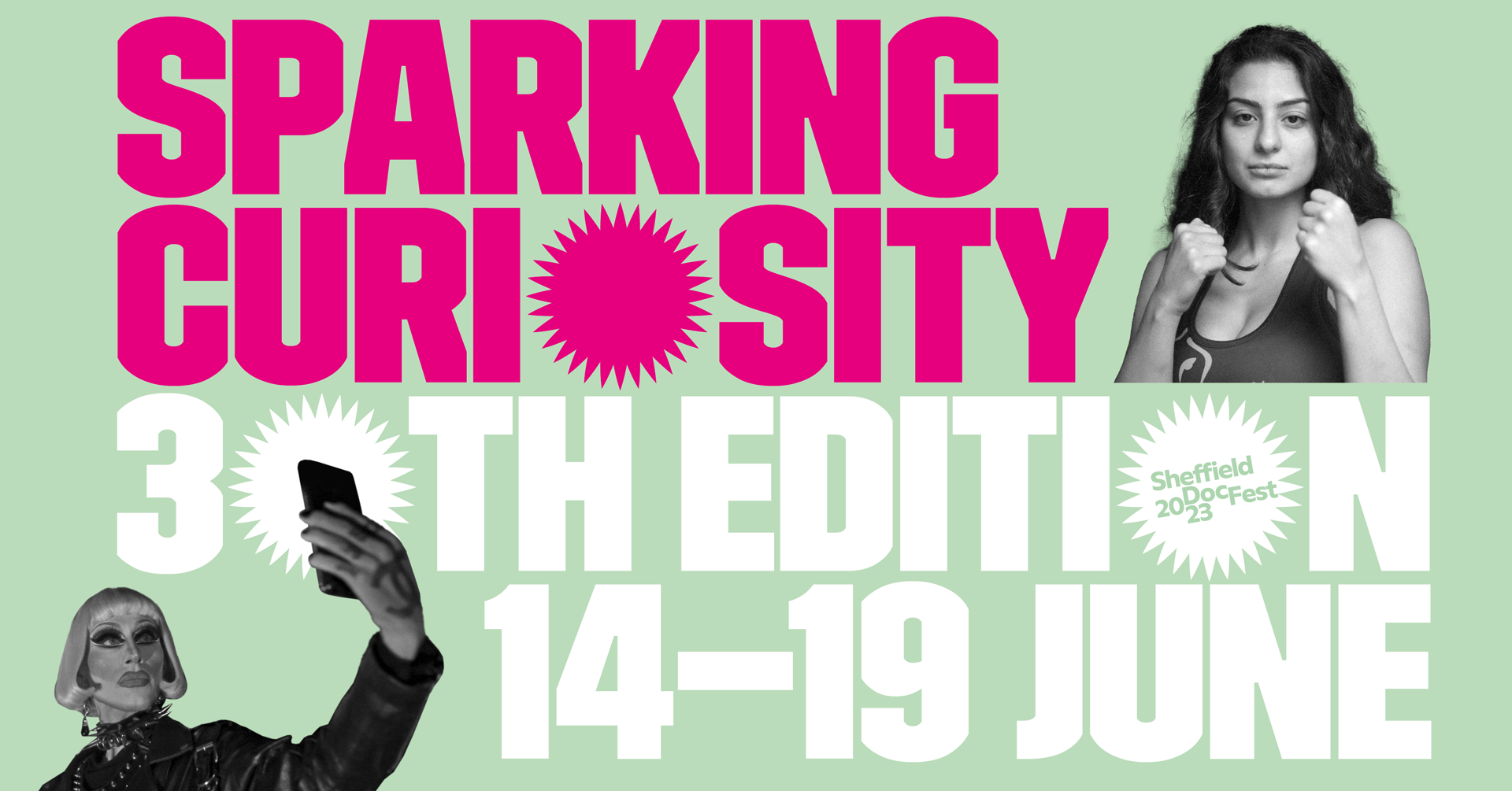 We are pleased to reveal our full Industry Programme for the 30th edition of Sheffield DocFest which completes our full festival line up. This year we are 'Sparking Curiosity' with documentary - and each other - in Sheffield, 14-19 June 2023. Come and explore the programme.
Academy Award winning filmmaker,

Kevin Macdonald

confirmed as mentor for the

Filmmaker Challenge


 

Stand-out events include:

It's Real! The Documentary Film Council Open Assembly: Shaping the Future of UK Documentary Together; The D-Word: Why Disability Inclusion Doesn't Have To Be Difficult

including speakers from UKTV, BBC;

Meet the Commissioners: Broadcasters

featuring the BBC, ITV, Channel 4, Channel 5, Sky;

Meet the Commissioners: Streamers

featuring Netflix, Prime Video and Disney (Nat Geo + Starz)


 

Four pitch sessions for emerging filmmakers:

The Whickers Pitch

,

Channel 4 First Cut Pitch

,

BBC Storyville Development Pitch

,

The Podcast Pitch
Our Industry Programme and Market run in conjunction with the Festival and includes 21 Industry Sessions for industry delegates, six Craft Summit sessions, four Marketplace Sessions, four Live Pitch sessions, the Filmmaker Challenge, Alternate Realities Summit, six marketplace Rough Cuts and selected BFI DocSociety Works In Progress screenings (by invitation) - as well as the previously announced flagship MeetMarket pitching forum.
The Industry programme dives into the business of documentary in all its many forms, complimenting the previously announced film programme, exploring the skills and techniques behind many of this year's films, with a focus on producing, editing, cinematography and music. The festival will be showcasing a range of new funding opportunities, including exciting collaborations with Royal Botanical Garden, Kew, BBC Storyville, and launching the Podcast Pitch supported by The Whickers.
Filmmaker Challenge 
After the success of our 2022's Focus: Filmmaker Talent initiative, we are thrilled to present the Filmmaker Challenge 2023. Six early-career UK filmmakers will make a short documentary in and around Sheffield during the festival, undertaking the challenge of making a film on the fly, with a micro budget and equipment support, as well as mentoring from Oscar and BAFTA-winning filmmaker Kevin Macdonald (Touching the Void, The Last King of Scotland, One Day in September). 
All filming is to be undertaken in a single day and the final work will be screened for industry and invited guests on the last day of Sheffield DocFest.
Supported by Prime, Canon, The Kurious and Sheffield Hallam University.
Sessions 
A total of 21 Sessions for industry delegates will include discussions and panels in collaboration with industry partners BBC, BFI, BAFTA, Channel 4, Doc Society, ITV, Royal Botanical Garden, Kew, National Geographic, Channel 5, Sky Documentaries, National Videogame Museum and Documentary Association Europe.  The events will cover industry topics such as disability inclusion, 10 Ways to win a commission, pathways for the new talent, neurodiversity inclusion, social mobility, journalistic integrity and creative distribution and exhibition. Networking at the festival will be supported by 18 drinks receptions and parties.
Beccy Ashdown, Talks & Sessions Senior Producer says: "This year, the industry sessions programme will pose some big questions. Has the industry opened up to working-class voices? Do we risk compromising projects and authenticity of the subject, or is there still a middle ground to tell the stories that filmmakers, contributors and commissioners believe should be told? Is journalistic integrity under threat with the rise of disinformation and AI? How do we support the mental health and wellbeing of the industry, to allow people to really thrive? We look forward to debating and discussing, the future of documentary together in June."
Alisa Pomeroy, Head of Documentaries, Channel 4, adds: "Channel 4 are proud to welcome alumnus David Glover as year's Channel 4 Interviewee in conversation with Tabitha Jackson, Executive Producer and former director of Sundance Film festival.  David is a bastion of bold, intelligent, and original factual programme making, known to challenge and break traditional forms. Along with Co-Founder Mark Rafael, 72 Films has become a beacon for talented and emerging filmmakers."
Craft Summit
Our Craft Summit is a curated day of panel sessions dedicated to the techniques that go into non-fiction filmmaking, from shorts to features. Featuring the creative minds behind many of the films in this year's programme, they explore how they have developed their craft, the creative choices they make and the tools that they use to achieve their vision.  Taking place on Saturday 17 June at The Crucible Theatre and at the Curzon Cinema, the Craft Summit is supported by Warner Bros. Discovery. Sessions include an Editing Masterclass with editor and filmmaker Maya Daisy Hawke (Navalny), AI driven editing with Adobe and Meet the Music Supervisor with Steph Grace-Summers, the Music Supervisor & Consultant behind BBC's 8 Bar - The Evolution of Grime.

Maya Daisy Hawke, Editor & Filmmaker, says: "DocFest recognises editors and editing as filmmaking. I'm looking forward to sharing my experiences working on such films as Cave of Forgotten Dreams and Navalny, and talking about what it's really like in the cutting room these days, both in the UK and America."
Live Pitches
This year' we will be hosting four sessions for selected emerging directors to pitch their non-fiction projects to panels of judges - The Whicker's Pitch vying for the coveted £100,000 Film & TV Funding Award; the Channel 4 First Cut Pitch to secure a commission for a 60-minute film, and one month of fully-paid development and mentorship with an indie; BBC Storyville Development Pitch will award their chosen project(s) up to £3,000 and the Podcast Pitch which is the first time the festival will host a podcast-only pitch format - an independent jury award two prizes of 5,000 and £2,000, supported by The Whickers.
Marketplace
Our MeetMarket runs in conjunction with the Festival providing networking opportunities and practical sessions and round tables. The Switchboard provides advice on the people to meet at this year's market, Snap Chats is the networking mixer, while DocFest Round Tables are intimate sessions with experts in series, festival, distribution and creative fields.