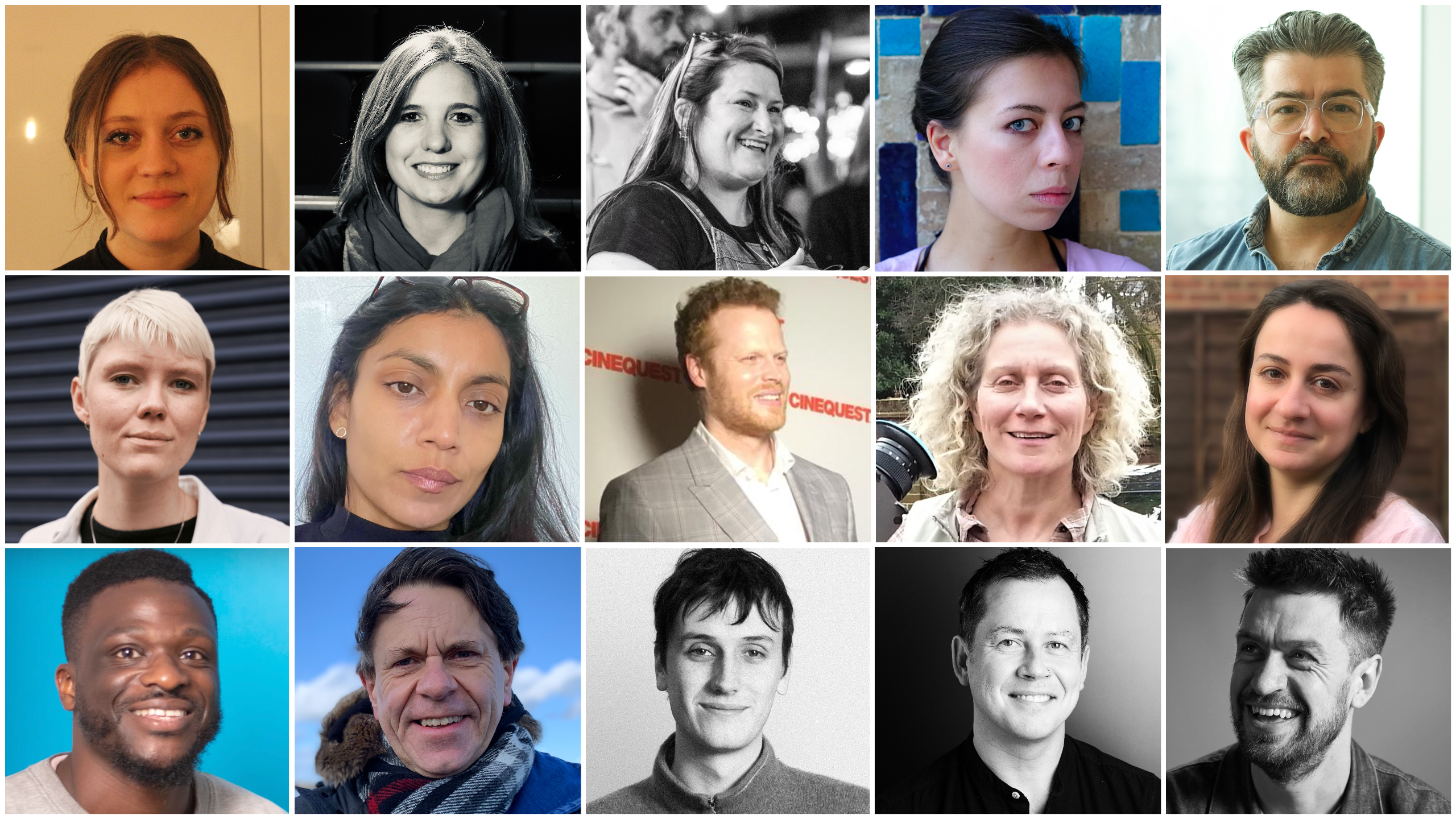 We are thrilled to announce the 15 producers taking part in Future Producer School this year which will run from April - June 2023.
Created by Sheffield DocFest and Bungalow Town Productions in 2014, Future Producer School is here to support up-and-coming producers that have the ambition to become international feature documentary producers. It consists of a residential lab led by industry specialists, one-to-one mentoring from Bungalow Town Productions' mentors Rachel Wexler and Jez Lewis, one-to-one meetings, and networking opportunities.
Meet our Future Producer School 2023 cohort
Alice Hughes - (she/her)
Alice Hughes is an award-winning and BIFA and Grierson nominated producer, whose work has been screened in cinemas, BAFTA Qualifying festivals (including Sundance London, Edinburgh Film Festival and Doc NYC) and online on BFI Player, Amazon and Apple TV. The success of her first feature Half Way led the director, Daisy May Hudson, to be named BAFTA Breakthrough Brit in 2017. Her short, Motherland, was shortlisted for a Grierson in 2020, and nominated for a BSC cinematography award. Her short docufiction, Until The Tide Creeps In won best documentary and best of the festival at Aesthetica in 2022 and her latest film Puffling is having its World Premiere at SXSW in 2023. Alice has had films twice funded by BFI Doc Society, Field of Vision, Emergence Magazine and Rooftop Film Fund, and has had work featured on Nowness, Short of the Week and Vimeo Staff Pick.
Amanda Rogers - (she/her)
Amanda Rogers has been a film and creative producer since 2005 with a focus on both documentary and archive film. Originally from the USA, Rogers has produced non-profit, educational, and historical documentary films and creative media projects with organisations such as Carnegie Hall, the United Nations, Alvin Ailey American Dance Theatre, Scottish Council on Archives, and Edinburgh's Hogmanay. First working in NYC, Amanda moved to Edinburgh in 2017 and continues to work in film production, film event production, as well as produces site-specific art and media installations through her UK-based company, Cinetopia.
Amy Morris - (she/her)
Amy Morris is AMMO Animation, an animation specialist and film producer based in Newport in South Wales.  She has produced over 80 fully funded short films, screened via various platforms, including BBC 2, BBC iPlayer and Film4 and has two Vimeo Staff Picks under her belt.  Her first documentary short, Bird in Cage, was nominated for the Kieran Hegarty Award for Innovation in 2014, and her most recent projects were shortlisted for the BAFTA Short Animation Award, nominated for a BAFTA Cymru Short Film Award and was selected to screen at Tribeca Film Festival, Ottawa Animation Festival, Frameline, Flickerfest, Aesthetica, Underwire and Encounters.  Her work has also been twice selected as Best of British at the Iris Prize. She loves working with inspiring storytellers and when she isn't doing that she likes watching telly and hanging out with her cats.
Anisa Sabiri - (she/her)
Anisa is a London-based filmmaker from Tajikistan, exploring themes of identity loss and de-colonialisation in Central Asia. Her films 'The Crying of Tanbur' and 'Rhythms of Lost Time' have been screened at numerous international film festivals and institutions including Busan IFF, Asian Film Archive, Documenta Fifteen and BOZAR. 
Her current works in development include 'The Burning Bush' (supported by Doc Society), 'Generation' (selected at Berlin International Film Festival's EFM Doc Toolbox) and the feature 'Tightrope' which won the Outstanding Screenwriter award at the London Film School, where she obtained her MA in Screenwriting in 2021. Anisa recently contributed to the anti-war documentary 'Twenty Four', which also features Agnieszka Holland, Maryna Er Gorbach, Sergei Loznitsa and Christian Petzold.  Anisa is a beneficiary of the UK Government Chevening Scholarship programme and is a member of Directors UK. 
Dean Beswick
Dean is an award-winning Producer, Creative Director, and production company founder who for the last 20 years has specialised in developing and delivering short form documentary film and animation projects for commercial clients in the UK and globally.
Over the last 15 years Dean has co-founded and run two successful commercial production companies, including his current home, Gorilla Gorilla! whose client list includes Sainsbury's, HSBC, The Body Shop, Amazon, The Dorchester Collection, and Eurostar. His client work has earnt BAFTA and RTS nominations, won Webbys and Lovies, taken home Gold at the New York Festivals, and been added to the national archive by the BFI.
Since 2019, Dean has developed and produced four short documentary films alongside his commercial work that have screened at festivals in the UK and abroad. Beginning with the forgotten story of CB radio culture in the UK to most recently profiling a boxer who lives to lose.
Emma Norton - (they/them)
Based in London, Emma is a freelance Producer with experience across documentary film, 360 video, short film and commercials. They are currently working with Snowstorm Productions, as Production Manager across a range of feature and TV documentaries, including the Channel 4 Documentary 'Animal Airlift: Escaping the Taliban'. Emma also has experience managing post-production for BIFA and BAFTA nominated 'Rebellion', and for the Channel 4 documentary series 'Who Is Ghislaine Maxwell?'. Alongside this Emma produces their own projects, including the SIMA award finalist XR film 'Virtually There', which premiered at the London Film Festival 2021, and the BFI Doc Society funded short 'Weathering', which was acquired by Al Jazeera Witness. 
Fawzia Mahmood - (she/her)
Fawzia Mahmood is a filmmaker and producer of fiction and documentary from London. Her films have screened at festivals including Locarno, London, São Paulo, and Pingyao, and won Grierson and RTS awards. For broadcast, she has produced with Sky, BBC Studios and UKTV, amongst others. Fawzia is currently developing projects across genre, platform, budget level and borders. She graduated from the National Film and Television School with an MA in Producing, having been awarded a scholarship and having previously studied economics and South Asian history. She is an alumna of Berlinale Talents, Edinburgh Film Festival Talent Lab and Rotterdam Lab.
James Pickering - (he/him)
Born in Yorkshire, England, James Pickering was raised on a diet of Genre Cinema. At just ten years old, he wrote a screenplay for an episode of The X-Files, which won numerous writing contests and was turned into a School Production. In 2020 his debut feature film ALL JOKING ASIDE made its World Premiere at the Cinequest International Film Festival, where it won the coveted New Visions Award. The film went on to be nominated for a host of Canadian Film Awards and was subsequently sold in the UK and North America. 
In 2021 Pickering began work on his first feature film as Producer – a documentary titled I COULD NEVER GO VEGAN – in which he was also the film's screenwriter. In November 2022, the trailer for the documentary was launched to much hype and acclaim. In the first month of its launch the trailer was viewed over half a million times across Youtube and other social channels. The documentary is due for global release in 2023. 
Pickering has a host of narrative and documentary projects at various stages of Production including a Political Action Thriller with Jeremy Wall (DEAD FOR A DOLLAR) attached to produce and Aku Louhimies (UNKNOWN SOLDIER) set to direct, as well as THE MAN WHO DRANK CANADA DRY which follows the life of larger-than-life snooker player 'Big' Bill Werbeniuk. He is currently packaging two feature length documentaries. Pickering perfectly combines creativity with commercial nous to write and produce entertaining, acclaimed and innovative pictures. 
Jan Dunn - (she/her)
Jan Dunn established Violet Pictures with James Collie in 2012. Violet Pictures has an excellent track record of distributing feature length documentaries. She recently produced her first short documentary film with James, Private View screening at the recent BFI Flare. With Violet Pictures she is currently developing a number of feature length documentaries including a film project around the women's history research she is undertaking for her PhD on female-masculinity. After making three successful micro-budget narrative fiction films she set up the charity Kent Film Foundation to help young people growing up in poverty achieve their aspirations to enter the film industry. Here, her passion projects are the girl's film club and the LGBT film club. She has personally nurtured and supported many young filmmakers into careers. Violet Pictures hosts the Folkestone Doc Fest and Jan is on the Jury and advisor for the Ramsgate International Film Festival.
Janay Boulos - (she/her)
Janay is a Lebanese/British journalist, producer and impact producer who has worked for the past 10 years for BBC News. She began her career in Lebanon as a documentary filmmaker before she moved to the UK. She is multi-skilled with a background in TV, Radio and Digital production. As well as having a shoot-edit experience she has worked in hostile environments and field production.
Jide Johnson - (he/him)
Following a Junior 3D Animation job at The Mill, Jide opened animation studio, Aniboxx, focused on short animated adverts for corporates. After working with Cartoon Network (Turner Broadcasting) he realised he had a passion for telling his own stories, particularly for those who are from underrepresented backgrounds. The first Documentary they worked on was for The PWC Africa Group, documenting their journey into the African world of startups. 
The next documentary was called Spending black, featured on BBC iPlayer in Oct 2021, focused on the power of spending money with Back owned businesses. Since then, Jide and the Aniboxx team have gone on to win a place on the Sony Animation Pictures talent league 2022 to develop his first 2D animated series and has recently made a short movie with Little Dot Studios, for channel 4's Random Acts platform. Jide also collaborated with the Milkshake / Nickelodeon team to write, produce and voice narrate Aniboxx' fīrst in house documentary called "Where are The Smart Black Boys?" which explores the lack of intelligent black males featured in children's content.
Marc Sigsworth - (he/him)
Marc Sigsworth is a director and executive producer whose films have been nominated for awards including the Amnesty Media Award for Iraq's Secret War Files (C4), the Grierson award for Stabbed (BBC1), the BAFTA current affairs award for All in a Good Cause (BBC1) and the RTS Home Current Affairs Award for Look Who's Working (C4) and Prisons Uncovered: Out of Control? for ITV.
Many of Marc's films have been shown in the highly competitive 9pm slot. Nicking the Neighbours, Road Rage and Council Houses Cheats and Victims achieved some of the highest viewing figures for factual programmes on BBC1 in the year they were broadcast. Marc's recent work includes Jill Dando: The 20 Year Mystery (ITV); The Vanishing of Suzy Lamplugh (C5); Who Killed Meredith Kercher? (Paramount +) and Dark Water: The Murder of Shani Warren (C5).
 
Mateo Villanueva Brandt - (he/him)
Mateo Villanueva Brandt is a producer / director of documentaries, art films and music videos. He is the co-founder and director of Foreign Body Productions, an independent production company based in South London. Mateo's first documentary film, Zágon, won the 2021 RTS nonfiction postgraduate award and screened internationally. The film was praised for its use of a complex art style that used various mediums to support its evolving narrative. Since then he has carved out a space in the art world producing BTS style documentaries for artists such as Amartey Golding, Mika Rottenberg, Marco Brambilla, Hetain Patel, CIRCA and Emma Talbot with these films being shown at The Powerplant (Canada), Tramway (Glasgow, UK), NOWNESS (online), Attenborough Centre for Creative Arts (Brighton, UK), Whitechapel Gallery (London, UK) and many more. He has also collaborated with visual artists such as Mandy El-Saygeh, Gaby Sahhar, Ai Wei Wei, Emma Smith, Eddie Peake and Ruth Waters to produce their video works, which have shown internationally at spaces such as Centre Pompidou, the Piccadilly Lights, the Design Museum, MAC VAL, Arcadia Missa and Wembley as part of UEFA Women's EUROs 2022. Through Foreign Body Production's film workshops, Open Source Collaborations, Mateo is committed to supporting first time filmmakers to create original works. He is currently in the early production of a new documentary film about a Palestinian music archive. Having volunteered at Sheffield Doc Fest in the past, Mateo could not be more excited to be invited to the Future Producer School.
 
Reece Cargan - (he/him)
Reece is an RTS award winning producer and founder of Bombito productions, a Scottish production company. Reece was selected by Screen International as a Rising Star Scotland in August 2022. Reece is a 'BFI Insight' producer for 2023 and his feature project 'Boifriend' was selected to pitch for co-production funding at Cinemart. Reece has represented Scotland at IFFR Producer's Lab and was the only UK producer selected for EAVE 2022 Producer's Workshop - with feature project 'A Good Spell'.
Reece has produced numerous award winning short documentaries and has multiple fiction features and a TV series in commissioned development. 'Your Honour' is Reece's first feature documentary with director Bircan Birol - currently in funded development with Screen Scotland. Reece – as his slate attests, is passionate about working with and turning up the volume of the next generation of queer UK talent, with a focus on intersectional LGBTQIA+ stories & Voices.
Toby Cameron - (he/him)
After graduating from Documentary Film at Newport Film School, Toby set up his own company, On Par, as a means to create, learn and tell diverse stories. Since On Par's creation, they have produced films for BBC, ITV and Channel 4, as well as a huge range of high end commercial content. Toby was selected as part of BBC Wales first new director's initiative. The film created as part of that scheme, Hell On Wheels, saw him win the 2018 RTS Cymru's Breakthrough Award. His most recent documentary about a Deaf man living in a hearing world, Born Deaf Raised Hearing, was watched by 1.4 million people on BBC 1. He is currently developing a handful of feature documentaries, with diverse talent, as well as producing multiple short films and a BBC documentary about a gold medal winning Paralympian.
Partners
BBC Studios
The Documentary Unit at BBC Studios is the home of high quality, thought-provoking and award-winning factual television.
Bungalow Town Productions
Bungalow Town Productions are Emmy Award-winning producers of unique documentaries for worldwide audiences.