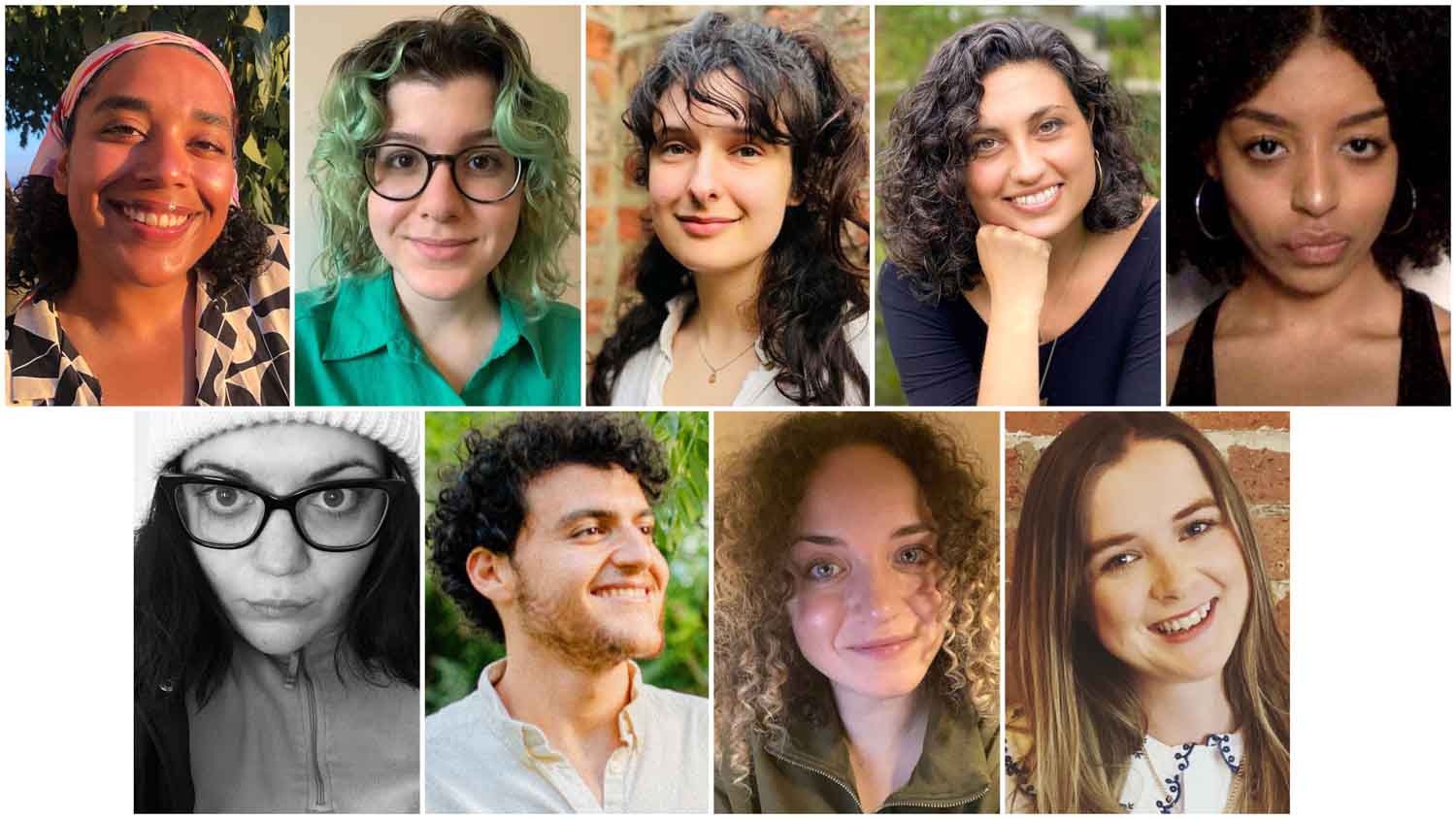 Image (Left-Right): Alysha Christal, Lib Griffiths, Georgia Ingles, Acelya Kancelik, Che Scott-Heron Newton, Mira Oyetoro, Mohamed Shalaby, Joanna Suchomska and Elin Tomos.
We are thrilled to announce the cohort for this year's edition of Amplify: Production Talent. Supported by BBC and Channel 4, the scheme offers early-career production professionals the opportunity to connect with UK production company executives in the documentary TV sector; experience an international marketplace; widen their network and learn more about the industry.
Meet the cohort:
Alysha Christal
Alysha started her career in the production department of  Hat Trick Productions. Drama, live TV, and a studio sitcom were her playground for growth. Embracing new challenges, she ventured to After Party Studios as a development and production assistant, expanding her expertise. She's worked as a production manager, working on BFI-funded shorts and a Channel 4 documentary, whilst simultaneously developing documentaries and comedies. As a queer woman of colour, she aims to amplify marginalised voices both behind and in front of the camera, while captivating a wider audience with untold stories. Her vision for this intertwines with her goal of becoming a skilled and accomplished producer.
Lib Griffiths
Lib Griffiths (they/them) is a Cardiff University alumni and inspiring film creative and storyteller. They currently work as a Producer's Assistant at Truth Department, engaged in producing cinematic documentary films for the big screen. Lib has a particular affection for telling joyful, queer stories, as well as exploring the weird and the whimsical. They are always writing.
Georgia Ingles
Georgia is an emerging documentary filmmaker who has worked on a range of projects including the Grierson nominated BBC series 'Mary Beard's Shock of the Nude'; an observational documentary series on the first year of parenthood; and several short films tackling sensitive issues involving suicide within the NHS and child sexual exploitation. Georgia aspires to produce documentaries that elevate underrepresented voices and tell intimate human stories. 
Acelya Kancelik
With a passion for storytelling, Acelya studied and worked in film and TV in Turkey since she was 16. After experiencing many different roles within production and post-production, she realised that her happy place was in the editing room, the place she feels most creative and most efficient.
When Acelya graduated from University, she moved to London in the hope of becoming a part of the British film industry, which she had admired for many years from afar.
In 2022, she was selected for the Grierson Doc Lab: Editing in Focus scheme. Currently, she is working on a 3-part Netflix series and enjoying every day of it with the goal of stepping up into a junior editor role within a year.
Che Scott-Heron Newton
Che is a documentary film assistant producer and sociology and media graduate from Goldsmiths, University of London currently working at Rogan Productions with demonstrable experience in documentary development and production.
She has worked across indie documentary projects for UK Factual, UK HETV and US SVOD with a personal interest in Black narrative documentaries, geopolitics and human rights and predominantly working through an impact-based lens.
Coming from a sociology background she specialises in journalism-driven complicated social issues with sensitive access, recently working on developing a landmark commissioned three part documentary series for Sky. She aims to become producer-director but at the moment is still learning and wants to do more production.
Mira Oyetoro
Mira Oyetoro graduated from the Kyiv National I. K. Karpenko-Kary Theatre, Cinema And Television University with a degree in "Organization of Film and Television Production".
She has attended workshops such as Festival Visions du réel/Laboratory of Visual Culture (SUPSI) idw interactive documentary workshop, ILAC Kisses — Virtual Workshop, Ukrainian Doc Preview Workshop, East Doc Interactive Workshop. In 2023, she attended the Serhiy Bukovskiy Documentary film workshop from Kyiv Institute of Journalism.
Her producer credits include: Diaper Cake dir. A.Babenko (2021), KINOSEREDA (2021), Christmas Stories dir. V. Sochyvets and P.Sotnychenko (2018), Kyiv Story dir. M.Masloboishchykov (2017); and EP credit on Blindfold dir. T.Dron (2019).
Mohamed Shalaby
Mohamed is an astute and meticulous creative. His experience extends across all facets of film and television - editorial, production, storytelling - he is proud to have his name attached to many high quality films for a range of excellent broadcast channels.
A bilingual documentary director, producer & investigative journalist. With 2+ years of experience working for the BBC across 10+ different investigative documentaries in teams of directors, producers, and executive producers to carry projects from development up to transmission. In June 2022, He broke the story about the UK's Rwanda Deportation plan for the BBC.
His films received nominations and recognition from the Academy Awards, Amnesty, One World Media and RTS.
Joanna Suchomska
Joanna is a Polish-born Researcher based in Brighton. As an alumna of the Grierson DocLab scheme (2021), she has been working in factual TV and developing her own projects. Joanna's short documentary MATKA / POLKA has been screened at festivals dedicated to social justice and women's rights around the world. She is looking to keep gaining experience to become a Producer one day, with the aim of making docs focused on social controversy and taboo.
Elin Tomos
Elin Tomos is a writer, historian, and producer from Eryri in north Wales. She works as an Assistant Producer for independent television company Cwmni Da where she aims to explore history at an individual, personal level through experimenting with different media outlets. Elin has produced and presented three historical series for BBC Radio Cymru. She worked as a Historical Advisor on a BAFTA Cymru-winning series for children called 'Hei Hanes!', a vibrant comedy-drama where characters bring Welsh history alive through vlogging their lives. In 2022, Elin received an Emerging Producer bursary from the World Congress of Science and Factual Producers, an initiative designed to provide attendance support for emerging producers working in science, history, and factual media.
 
Amplify: Production Talent is supported by BBC and Channel 4