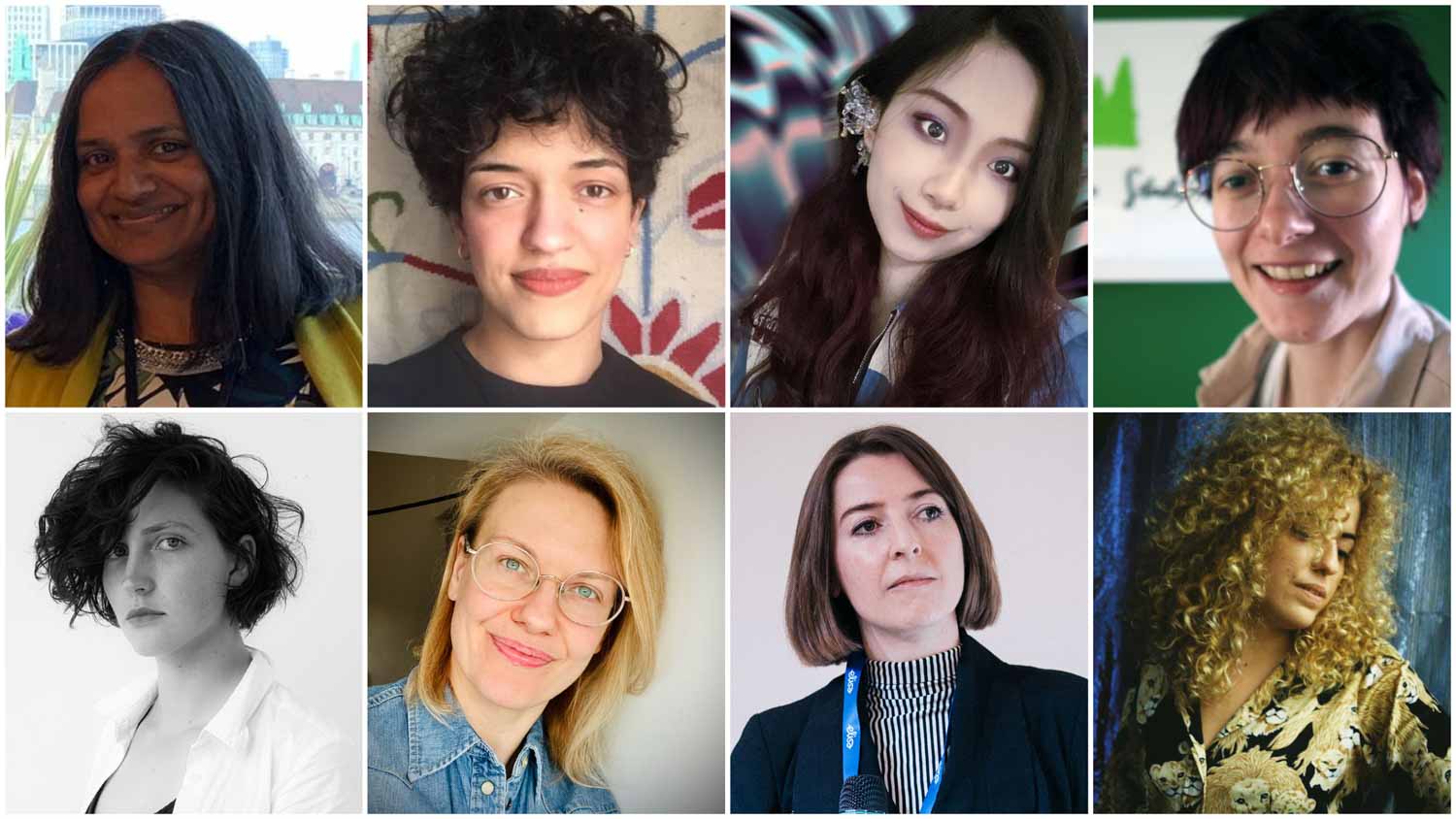 Image (Left-Right): Abhi Arumbakkam, Yasmine Boudiaf, Xiaoyan Dong, Emily Godden, Hannah Papacek Harper, Magdalena Janowicz, Jessie Mangum and Catarina de Sousa.
We are proud to announce the 2023 cohort of Alternate Realities Talent Artists, who have been selected to take part in this year's edition of the Alternate Realities Talent Market, taking place on Saturday 17 June. The initiative exists to foster collaborations between artists, collectives, creatives and organisations focused on using digital technologies to experiment and play with non-fiction boundaries, as well as push storytelling in exciting new directions.
Meet the cohort:
Abhi Arumbakkam
Abhi is a dynamic creative practitioner who is based in Berkshire. Her work spans multiple disciplines including documentary films, writing and producing for community engagement. In 2021, she was awarded a Fellowship by Farnham Maltings in Surrey which has allowed her to delve deeper into creating meaningful and impactful art. 
Abhi has an MA in Documentary (distinction) from Royal Holloway and has been commissioned by the Photographer's Gallery, the British Council, and Home Slough. She works part-time as Project Manager at Slough-based arts organisation Resource Productions developing talent and outreach. Until recently, she managed a 3-year project funded by the Rothschild Foundation and in 2022, she designed and delivered a 4-month long documentary programme funded by BFI DocSociety.
Abhi's work tends to be participatory in nature. She aims to create inclusive and engaging community art where participants take the lead in interpreting what is on offer and reacting to what is available. She recognizes that each participant's experience is unique and personal and encourages them to shape the session in a way that feels most meaningful to them. Abhi's work seeks to challenge accepted narratives and biases and reflects her dedication, creativity, and willingness to explore new ideas and perspectives.
Yasmine Boudiaf
Yasmine is an Algerian creative technologist and researcher based in London. She is a fellow of the Royal Society of Arts and the Ada Lovelace Institute and was recognised as one of '100 Brilliant Women in AI Ethics 2022'. Her projects interrogate the impact of new technologies on cultural life. She is currently developing a series of artistic research projects exploring cultural (dis)connections across time and geography using AI and anti-colonial methodologies. 
As an Algerian and a creative technologist, Yasmine explores how she and other displaced peoples could reconnect with intangible heritage, reviving and contextualising shared cultural memories as well as building new collective approaches to inform AI as praxis. Yasmine has received funding and commissions for her projects from Arts Council England, the Alan Turing Institute, universities and the private sector to develop engaging experiences. Her work has been featured in media outlets including the Times and Evening Standard, as well as at international conferences.
Xiaoyan Dong
Xiaoyan Dong is a multimedia artist born in Beijing and based in London. She works in film, experimental performance, installation and fashion design to explore invisible disabilities, vulnerable cultures, and ethical issues.
Through her experience in theatre production and filmmaking, Xiaoyan is fascinated by the immediacy of theatre and the cinematic perspective of the film, developing a multimedia theatre production system that places an emphasis on character development and portrayal. Her work encourages people to think about the relationship between people and the digital world or to use the virtual as a reflection of the realities associated with people.
Emily Godden
Emily Godden is an Artist, Creative Technologist and Educator splitting their time between Lecturing in Digital Media Production at Anglia Ruskin University and Directing social enterprise Virtually There Studio CIC. 
 
Emily's practice explores e-waste, immersive technologies and the environment to develop interactive experiences and exhibitions. Their work has been shown at exhibitions and festivals across the UK and Europe including Somerset House, Tate Modern and Spill Festival and has won awards for innovations in wellbeing and technology. 
 
Currently they are on a PhD adventure investigating immersive storytelling and virtual heritage to re-build The Lost City of Dunwich with StoryLab.
Hannah Papacek Harper
The French-Autralian-US artist and director Hannah Papacek Harper is profoundly interested in communication, transmission and sensorial approaches to film. Her experimental video production and photography allow her to create creative collaborations around these subjects. She has worked with the dance company AMA for filmed interventions in centers for people with disabilities since 2019 in Normandy. A collection of these works were exhibited in a solo show, 'Vu d'ici ! // Aller voir ailleurs...' in 2020. 
Her documentary photography has been shown several times, notably as an artist's book (Elles Respirent Toujours) at the Cartier-Bresson Foundation in Paris in 2017, which was subsequently purchased by the Queensland State Library to be held in their permanent collection. In 2022 she exhibited her alternative cartography project The Persistence of Red at the Anglo-American University in Prague. 
She is developing two feature documentaries dealing with the subject of ecology. In 2021, her experimental short film on the same theme, Vegetative, won three awards in alternative international film festivals. 
Magdalena Janowicz
Magdalena Janowicz is an artist, designer, and researcher exploring the convergence of technology, art, and human experience. Holding an MSc in Human-Computer Interaction (HCI) from UCLIC, University College London (UCL), a world-leading centre of excellence for interdisciplinary research on HCI, she leads the 'In Out' project within the broader 'Biohybrid Bodies' initiative.
Through storytelling, sensory design, and soft robotics, Magdalena crafts an AI-controlled breathing garment, merging art, science, and humanities, delving into the realms of 'biohybrid breathing' and meditation practices aided by video and immersive audio narratives.
Her work is pushing the boundaries of artistic expression with bio-materials, robots, and technologies of existence.
Jessie Mangum
Jessie Mangum is a BIFA nominated producer whose film credits include the feature Looted (Film London/ BBC Film/ BFI), FIPRESCI winner and 2021 BIFA Award nominee. 
Recently Jessie has produced immersive projects including an AR prototype Echoes Of Crystal Palace (selected for Sheffield DocFest Alternate Realities Talent Market 2020) funded by StoryFutures Academy, a virtual reality experience Get Punked! for StoryFutures / Visualise / Unboxed2022 Festival where she was selected as one of the StoryTrails Creative Practitioners, and is currently Story Producer for the StoryFutures / BFI / Studio ANRK virtual reality project There Exists. 
Jessie is interested in combining narrative storytelling with new technology formats, making work that compels, challenges and surprises audiences.   

Catarina de Sousa 
Producer/director Catarina de Sousa has over 15 years experience in cinema and visual arts in different countries such as Brazil, United States and Portugal, and has produced award-winning films, screened at international festivals. Catarina's work combines her background in journalism, economy and politics of media and poetic writing and is influenced by the history of feminist and queer sciences. 
As an enthusiastic advocate of the new media revolution, using everyday technology, she has been developing cross-disciplinary documentary/research where she explores the question of temporality emphasising the issue of memory and the archive as footage for shaping the future and think about new possibilities and utopias, rethinking questions of political history and philosophy of time. Her last work "Tracing Utopia", a film co-directed with Nick Tyson, developed at UnionDocs, NY, with an official selection at IFFR 2021, creates an archive of memory for the future based on the experience of a group of teenagers from Queens discussing their ideas of a queer utopia. They build online safe spaces within a popular video game and create a manifesto for a more equal and just world where everyone can be their true self.