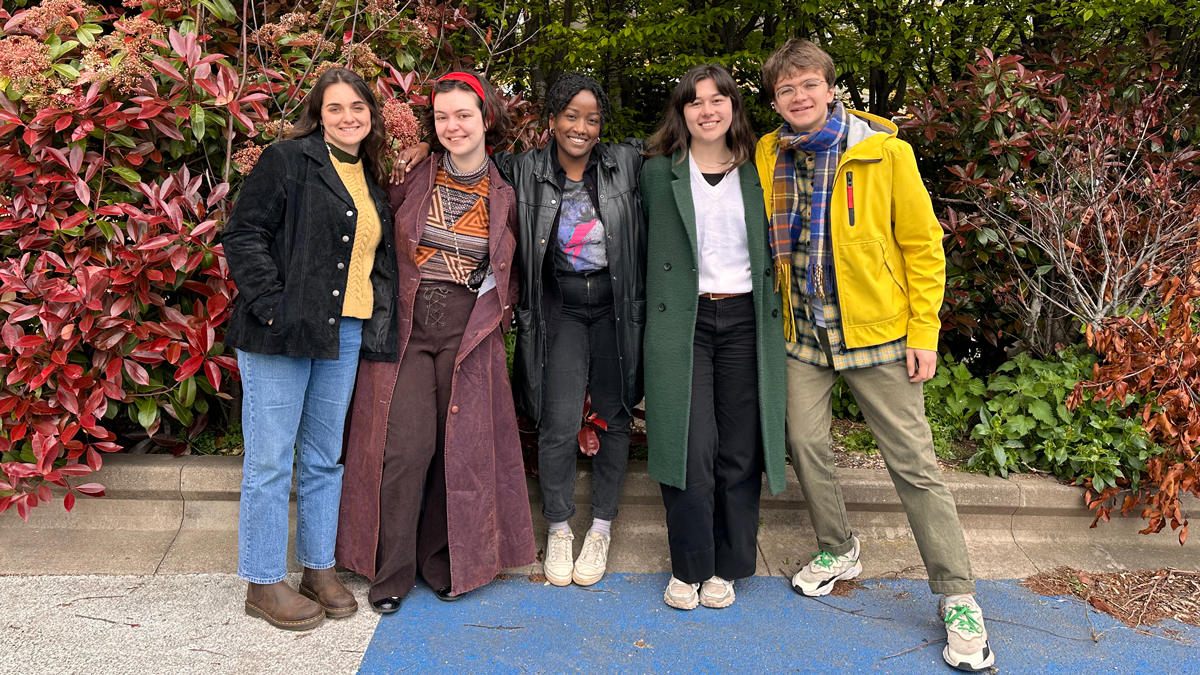 Image credit

:

 Our 2023 Youth Jury members Jenny Luisa Barruol, Alexandra Judkins, Amanda Daud, Annabel Bai Jackson, and Tymofii Donets
Here are some highlights of the 30th edition of Sheffield DocFest programme from our 2023 Youth Jurors. Join us as we are 'Sparking Curiosity' with documentary - and each other - in Sheffield, 14 - 19 June!
Looking for a guide to making the most of this year's DocFest programme? Our 2023 Youth Jurors have got you covered. Below are the films, talks, sessions, and Alternate Realities experiences they're most looking forward to this month.
Alexandra Judkins
Looking through the DocFest programme, it's hard grappling with the fact that there's just no way I'll be able to see and do everything that's caught my eye. However, here's a haphazard selection of some things that really jumped out at me from the programme: 
I'm very interested in Latin American film, so the number and diversity of Latin American films on the programme has got me very excited - aside from Youth Jury Prize nominee Anhell69, I'm looking forward to seeing other stories of queerness in Latin America such as Hummingbirds and All the Flowers, and explorations of the personal and political in Not a Bedtime Story and In the Shadow of Light. 
Outside of my interest in documentaries, I'm also an avid horror fan, so some of the more macabre selections on the programme have got my attention - I'll be doing my best to take in Dancing with Dead Animals at the Alternate Realities programme, and see films Not a F***ing Horror Story and Handle with Extreme Care. 
As a Youth Juror, I still feel extremely new to the film industry as a whole, so I'm hoping to catch some of the industry sessions just to learn as much as I can - the BFI Doc Society Drop-In Day seems like a great opportunity to have some informal chats and get to know people, and the DocuMentality talk on mental health in documentary sounds really interesting.
Amanda Daud
It has taken me quite a while to sift through the entire programme to pick out what I want to see at DocFest 2023 - there is just such an amazing array of films, talks and opportunities that my list became very long! Nonetheless, the highlight of the festival lies in the myriad of opportunities that await me. I am amazed with the remarkable programme that the team at DocFest has curated, and I am so grateful for all their hard work in putting together the 2023 Festival, and for looking after us as Youth Jurors in the process. 
As an emerging director and filmmaker, I am really excited for all the talks and sessions this year. From The Whickers, BBC Storyville and Channel 4 First Cut Pitches, to enlightening dialogues with the commissioners of top broadcasters and streamers, I am certain that I will leave each one with a wealth of knowledge. In the same vein, I am really looking forward to the Producing Feature Docs: The Good, The Bad, and The Ugly Craft Summit as I know that I will learn so much from it too! 
I am excited to watch Moses Thuranira Thiane and Andrew H Brown's Between the Rains as part of the International First Feature Competition, and the UK Premiere of Andy Mundy-Castle's White Nanny Black Child as part of the Debates strand. Both films excite me as a filmmaker whose own positionality within the world informs my creative endeavours, and I am eagerly looking forward to seeing how each film grapples with race and identity in different ways!
Furthermore, I am intrigued by the Alternate Realities Programme, in particular, the immersive Galup VR Experience by Ian Wilkes and Poppy van Oorde-Grainger and Missing Pictures by Clément Deneux, which are bound to expand my understanding of the art of creative documentary storytelling. The Shorts Programme also looks great, and I am particularly excited to explore the curated realms of Resist and Dreaming Trees. 
Overall, I am so excited to learn, forge new connections, nurture potential collaborations, watch an abundance of films, have lots of fun and 'spark my curiosity' at DocFest 2023. See you all there!
Annabel Bai Jackson
I'm excited for the Alternate Realities Exhibition at Site Gallery, to see how visual artists and filmmakers are adapting their practice to engage with cutting-edge technologies and speak to our digital present. Galup VR Experience and Within Touching Distance, in particular, seem to impressively blend an immersive experience with important contemporary questions about history, storytelling, and human connection. I'm also looking forward to attending Rakhshan Banietemad's guest of honour speech, as well as hearing the people behind Citizen Sleuth talk about the ethics of documentary podcasting in their programmed Conversation.
I think the festival will also be a great opportunity to catch shorts. I'm excited to see the archival material and collaborative mode of filmmaking in the programme Women Like You: Three Films from the Sheffield Film Co-op, curated by Invisible Women, and the non-anthropocentric focus of the work on display in Shorts: Dreaming Trees. Hosting Q&As after the screenings and presenting the Youth Jury Award will also be highlights, and I'm really eager for our cohort to meet again and deliberate on which film from our programme should be the winner. Overall, the week will be an incredible insight into the industry – and poking my head into the MeetMarket, and just being in the same room as such a fascinating array of filmmakers, producers, and exhibitors, will no doubt be brilliant.
Tymofii Donets
I believe that the Sheffield Documentary Film Festival will be an interesting journey of going further in understanding documentary storytelling, filmmaking, and festival work, changing individual perceptions of the world around and getting new experiences from others by establishing new connections.
I value the diversity and internationalism of the festival, desiring to observe the cultural differences and approaches of filmmakers from different countries. Especially, I am looking forward to delving into the programme 'Perspectives on Iran' and understanding the cultural and historical background of the country better. Also, I am waiting to explore Ukrainian films such as '20 Days in Mariupol' and 'In the Rearview', reflecting on my personal experience of fleeing the war and at the same time representing Ukraine in the festival. And, generally, I am excited to see what topics shape and concern our world nowadays through other films.
 With a massive choice of industry events and opportunities, I am keen to get new knowledge about documentary storytelling in talks and workshops. And through Marketplace sessions I want to share my background in photography, cinematography, and visual culture generally, introducing my interests in topics such as 'Coming of age and separating from parents', 'The war and refugee experience, accepting new culture, environment around' to find people for future cooperation and interaction in the industry.
I am proud of the ideas our 'Youth Jury' programme represents this year. And I hope you will spark your curiosity while being in Youth Journey.